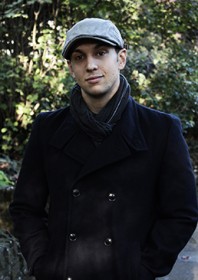 Life of Action is the first book by film journalist Mike Fury. It's a detailed analysis of action cinema told by some of the genre's most famous names and features interviews with stunt coordinators, fight choreographers, directors and actors based around the world. The book includes biographical information and comments from leading industry figures like Donnie Yen, Dolph Lundgren, Tsui Hark, Cynthia Rothrock, Andy Lau and Scott Adkins, and acts to highlight the skill, determination and creativity required when working in this much-maligned genre. We caught up with Mike to discuss his love of action movies and what he hopes to achieve by writing the book.
When did you first fall in love with action movies?
I was a huge fan from a young age and, as a kid, I watched a lot of films with my dad. I remember watching Bruce Lee and Jackie Chan films on VHS. I also had a school friend who had No Retreat, No Surrender (1986) on video, so I saw that early on. That was my first Van Damme film. These made a big impression on me and I grew to watch a lot of different types of action; the old kung fu movies, Hong Kong action, Hollywood, B-movies and a lot in between.
After talking to so many great action stars, are you any closer to deciphering what it is that makes these individuals so popular?
I think the great ones are unique. If you look at people like Bruce Lee, Jackie Chan or Jean-Claude Van Damme, there's a special set of ingredients which, when combined, is a totally unique recipe for that individual. Whether that's the physicality, charisma, comedy timing or something else, they're never a clone but totally a one-off.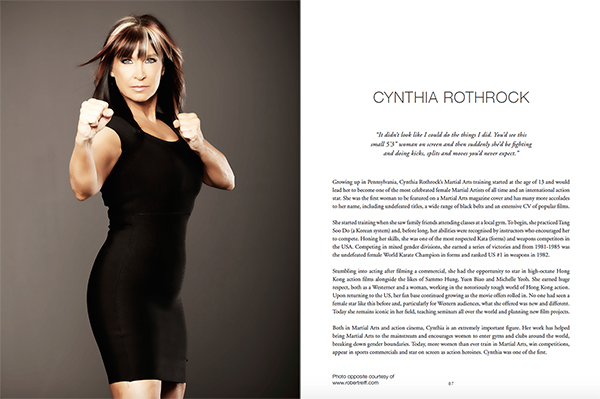 Were there any common themes you discovered with the people you interviewed?
Everyone has totally different backgrounds. Some came from a fighting background, some trained as actors or filmmakers, some learnt on the job. So it goes to show there's no set route. Common attributes include a good work ethic, sticking to your guns and not letting negative forces drag you down. When he was growing up, even Scott Adkins was told he couldn't be an action star! It just goes to show how little people really know and then try to limit you. If you have goals and aspirations, you need to overcome these hurdles. I think these are important traits for any successful people in any endeavour.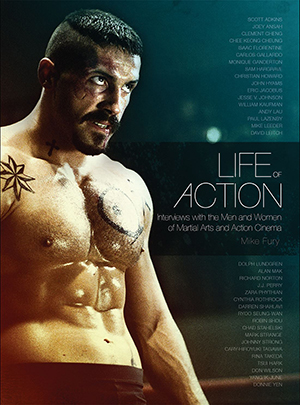 What did you want to find out by writing the book?
Being a huge film fan, I always held this art form in very high regard and I wanted to dissect and understand how it works; what ingredients are necessary and how are certain things achieved? I guess that's why I started writing, as I had this interest and I wanted a platform to explore it and share my passions with other people. I also began working on some films for the same reason; an interest in the entire film-making process. While I'm a fan of many film genres, action is definitely one of my focal points, so this formed the premise of the book. Plus, I'd previously interviewed a number of people for magazines or online and heard some great stories, which is how the idea emerged. Bringing all of this together, I could visualise the end product and felt confident the format of a book would work.
Do you believe the industry is in a healthy place right now?
It's a very hard question to answer and everyone will have a different view. For me, it's yes and no. The big films have always been there but there are now more opportunities for indie filmmakers who can go out and shoot projects inexpensively. Making movies is no longer an elite, guarded venture that few can step up to. Stunt teams go out and make kick-ass shorts for YouTube and indie filmmakers can get their work released. It's nice to see things are more accessible. Likewise, if you have a good proof of concept, you don't need to rely on big studio bosses to make it happen, and so more people are working outside the studio machine. On the flip-side, I feel like the internet has strongly devalued the art as a whole, which is very sad. Films are ripped, torrented and shared and the work has no perceived value. Movies are downloaded, watched and deleted. It's just air; there's no physical connection. Studios and distributors need to get a better handle on things as well, but I wish there was more love there. That's me being nostalgic! Fortunately there are still passionate film fans supporting the art.
What trends are you noticing in action cinema at the moment and what will be the trends of the future?
There seems to be two distinct tiers for most action films: the big blockbusters – all too often PG-13 rated – and then the low-budget films with good action but sometimes suffering in the drama and storytelling. Sadly, we don't see these overlap too often. When you have a quality movie with all the important mechanics of film-making, and then showcasing solid action, I think you're onto a winner. The Raid (2011) was a great example: a bold, theatrical action film with crazy fights but which held tension and drama; a piece of quality film-making, not just action. I'd love to see more films like this. As for future trends, it's hard to predict. The superhero films are raising the stakes in the action department, so I think that will continue growing, alongside more genre-busting comic adaptations. There's definitely a huge demand. The good news is that the young filmmakers and stunt teams who prove themselves on their indie work can get opportunities on these big jobs later, which can only be a good thing.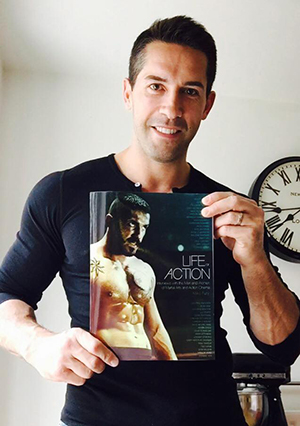 You had a small role in the Scott Adkins film Green Street 3, and he is also featured on the cover. What is Scott like to work with, and why do you think he is currently doing so well in the genre?
Working with Scott was interesting because, although I know him, I'd never been on a film set with him before. It's a real insight into the man at work! He's extremely hard working and really gives his all in his action performances. I think he's very aware, even on the day of filming, about how his fights will look in the finished product, so he works with the choreographers to deliver something special. He puts in a huge amount of work and has successfully carved his niche as one of the top action actors with crazy physicality, alongside the likes of Donnie Yen and Tony Jaa. For an action audience, his work absolutely delivers the goods.
As a fight choreographer yourself, what did you learn from the choreographers you interviewed?
These guys are insanely talented. Just look at Chad Stahelski and David Leitch, who run 87Eleven, or J.J. Perry. The credits they have between them are stunning. They are basically the best in the world at what they do, but, again, it's all down to a relentless work ethic. No one gets to that level by accident! I told David [Leitch] the first time I remember seeing him in action on screen was in the Martial Law TV series with Sammo Hung, playing the arrogant self-defence instructor who Sammo puts on his back! He thought that was funny. But just think that nearly 10 years on, and many films later, he and Chad would be working on 300 (2006) and setting up their own team. Then, a few years after that, they'd be working on their first film as Hollywood directors [the 2014 Keanu Reeves film John Wick]. It's an incredible journey but totally logical. They're super creative and it's all been a steady progression for them.
Your book also features one of the last interviews with the late British martial arts actor Darren Shahlavi. What are your thoughts on Darren following his untimely passing?
He was hugely supportive of me, my work and this book in particular. I know he was a very kind person, sincere and worked extremely hard throughout his career. He was really on the cusp of greatness and had much more still to do, so it's very sad and tragic to see that journey cut short. But I feel everything he managed to do in his life and career is greatly inspiring. If you look at some of his classic work in Bloodmoon (1997), Tai Chi Boxer (1996) or Ip Man 2 (2010), for example, those films will be enjoyed by film fans, critics, young actors and filmmakers long into the future.
What would your advice be to someone wanting to make it in action movies today?
Whatever you really want to do, you need to live and breathe it. That means becoming immersed in that world and subject, because it's the best way to learn and the fastest way to progress. If you're a stunt guy, you'll be training hard, shooting demos and keeping a close eye on that community. If you're a filmmaker, you'll need to carry a camera around and practice shooting and cutting stuff constantly. If you're an actor, you'll be filming your rehearsals, watching playback and scrutinising yourself; same with action acting and filming yourself train. Also, you'll probably be motivated by your heroes in your chosen field, so it's good to watch what they do. It's also about finding like-minded people who have the same interests as you. That way, you can build a team and support each other.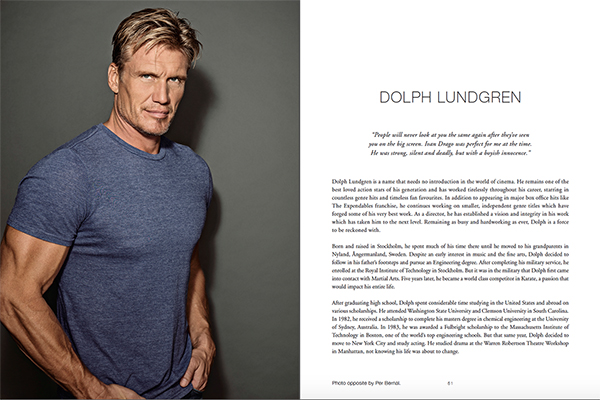 Life of Action is available now on Mill City Press. Click here to order.