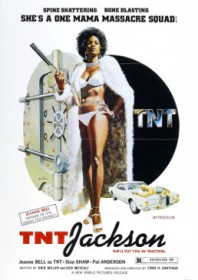 Diana 'TNT' Jackson ("she'll put you in traction") flies to Hong Kong on the hunt for her missing brother who was killed by a squabbling gang of drug pushers. "I'm gonna find them, and I'm gonna bust the motherfuckers to pieces," she says in a near-perfect plot synopsis, and soon Jackson is brushing afros with cool cat Charlie (Shaw), honing her chops with Karate Joe (Chiquito), and sniffing out the culprits after befriending undercover cop Elaine (Anderson).
It is also screamingly obvious that we are not in Hong Kong, but actually the far cheaper surrounds of the Philippines, where Roger Corman and Cirio H. Santiago made their grossly profitable women-in-prison movies, like The Big Doll House (1971), which made Pam Grier a star. Being a blaxploitation picture, this film is more closely aligned to the duo's earlier Filipino jungle romp, Savage! (1973). This is the better movie, but then that's a bit like comparing which method of water torture you prefer.
The film manages to scrape through a mercifully short 72 minutes without completely losing coherency, distracted only by brief scenes of nudity and some karate chopping. The action scenes owe much to Bruce Lee – more in spirit than in style or execution – and showcase Jeannie Bell as a slightly rattled yet competent alternative to Pam Grier; or rather Tamara Dobson, which is the more relevant comparison, considering this film follows Dobson's exploits as the titular Cleopatra Jones in Warner Bros' 1973 female response to Shaft.
Of course, there is a high possibility that Bell only got the role after agreeing to do the film's infamous topless fight scene, which just about sells the film in 70s exploitation terms – and that's even before she punches her whole arm through the torso of one of the baddies.
Clearly if you're not comfortable with a movie which measures its success in terms of blood and boobs then you're probably in the wrong place. For those who are a fan of this kind of stupidity, chances are you already know there are better examples of the genre out there, and this dated hooey is nothing but a footnote.