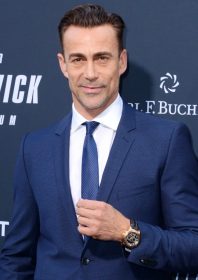 Date of birth: 31 August, 1965 (Bern, Switzerland)
Occupation: Actor, stunt performer, model.
Style: Taekwondo, Karate, boxing, kickboxing, jiu jitsu, judo.
Biography: Daniel Bernhardt is an actor, stunt performer and martial artist, known for playing roles in Hollywood action films. He was born in Bern, Switzerland, in 1965. He has two brothers, Dirk and Cliff. He played football as a child and started training in martial arts at the age of 15; he trained in boxing, kickboxing, karate and taekwondo. After finishing high-school at the age of 16, he spent four years working his apprenticeship at an architect's firm. He graduated at the age of 20, achieving his diploma, but a career in architecture wasn't to be.
After being encouraged to work as a model, Daniel moved to Paris. Between the age of 21-28, Bernhardt worked around the world for designers including Mugler, Hugo Boss, Cerruti and Versace, and he was published in the magazines including Vogue, Elle, MAX, Interview and Cosmopolitan. At the age of 25, he relocated to New York to continue his modelling career. During his modelling career, he continued to train in martial arts. In Paris, he trained with karate and kickboxing champion, Dominique Valera; in New York, he studied Kyokushin Karate at Mas Oyama's school.
In 1990, Bernhardt worked with Jean-Claude Van Damme on a TV spot for the fashion house, Gianni Versace, called Lookin' for Kicks, directed by fashion photographer, Bruce Weber. He was cast because of his background in martial arts, and he performed a fight scene with Van Damme. The two got along well, communicating in French, and it sparked a desire in Bernhardt to pursue a career in action films.
He put together a demo reel and sent it to the film producer, Marc DiSalle – producer of Bloodsport (1988) and Kickboxer (1989) – who flew Bernhardt to Los Angeles for the opportunity to replace Jean-Claude Van Damme in Bloodsport II: The Next Kumite (1996). He was offered a five-picture deal and relocated to Los Angeles, quitting his job as a model. Once in Los Angeles, he began studying taekwondo extensively under the direction of Grandmaster Hee Il Cho, who would also appear in Bloodsport II – as would his brothers.
The project stalled for two years, by which time Mark DiSalle lost the film rights. Once it was made (for less money), Bernhardt would still be cast in the long-awaited sequel, making his film debut alongside veteran actors Pat Morita and James Hong. The film, made in Thailand, was a perfect showcase for Bernhardt's martial arts skills, and he returned to the franchise for Bloodsport III (1997) and Bloodsport: The Dark Kumite (1999), a reboot with Bernhardt playing a new character.
Bernhardt become known as a leading man in low-budget action films. His films from this period include Future War (1997), True Vengeance (1997), and Perfect Target (1997). During this time, Daniel continued to study acting in Los Angeles under Harry Mastrogeorge. In 1998, Bernhardt was cast as a series lead in the TV show, Mortal Kombat: Conquest, playing the character, Siro, opposite Paolo Montalban and Kristanna Loken. It ran for one season and was cancelled.
In 2003 – when the straight-to-video, low-budget market was started to wane – Bernhardt stepped more into stunt work, appearing as the 'upgraded' Agent Johnson in The Matrix sequel, The Matrix Reloaded, for his friend, the stunt coordinator Chad Stahelski. He fought against both Keanu Reeves and Laurence Fishburne in the film; he also lent his voice to Agent Johnson in the Enter the Matrix video game.
In 2007, Bernhardt directed, wrote and co-produced the short fight film, Fetch, starring David Leitch and with Chad Stahelski as stunt coordinator. He has fought on-screen with Chuck Norris in The Cutter (2005), Jason Statham in Parker (2013), Max Zhang in Escape Plan: The Extractors (2019), and Margot Robbie in Birds of Prey (2020). In 2017, Bernhardt reunited with Jean-Claude Van Damme to fight on-screen once again for the film, Kill'em All.
Since 2013, Bernhardt has balanced work as an actor with roles in stunt departments. He has continued his connection with 87Eleven Action Design – founded by Chad Stahelski and David Leitch – and has worked on many of their projects including all three John Wick films, Logan, Atomic Blonde, Deadpool 2 and Nobody, for which he was also asked to train the lead actor, Bob Odenkirk.
Bernhardt is married to the actor, Lisa Stothard. The two worked together on the film, Bloodsport: The Dark Kumite. Together they have a daughter, Bella, born in 2003. He lives in Beverley Hills, California.
Speech! "They realised it's better to hire a guy like me to put in the part to play opposite like a Jason Statham or a Keanu or a Charlize Theron, because they realised I could act, I had a certain size, I had a certain look, and better than hiring just an 'actor actor', then you have to double him, you have to go over the shoulder, and it's a whole different fight. So that's where I got very lucky, and I found myself a little niche in the game." Interview with Kung Fu Movie Guide Podcast, 2021.
Click here to listen to KFMG Podcast S06 Episode 76 with Daniel Bernhardt.
Filmography (as actor): 1996 Bloodsport II: The Next Kumite; 1997 Future War; Bloodsport III; True Vengeance; Perfect Target; 1998 Mortal Kombat: Conquest (TV); 1999 Bloodsport: The Dark Kumite; G2; 2000 Black Sea Raid (+ action dir.); 2002 Global Effect; 2003 The Matrix Reloaded; The Librarians; 2005 Confessions of an Action Star; Nature Unleashed: Tornado; The Cutter; 2006 Desire; 2007 Fetch (short) (+ dir, pro, scr.); Children of Wax; 2008 Tag und Nacht (TV); 2010 Supreme Champion; 2011 Chase (TV); Creature; 2012 Foodfight!; Dead Hearts (short); BlackBoxTV (TV); Santa's Summer House; 2013 Parker; The Hunger Games: Catching Fire; Zombeo & Juliécula (short); 2014 Knock 'em Dead; Legends (TV); John Wick; 2015 The Vatican Tapes; Brothers; Castle (TV); Agents of S.H.I.E.L.D. (TV); 2016 Precious Cargo; Term Life; Kevin Hart: What Now?; 2017 Logan; Atomic Blonde; Kill'em All; 2018 Pines (short); Arrow (TV); Altered Carbon (TV); 2019 Lethal Weapon (TV); Barry (TV); Escape Plan: The Extractors; Fast & Furious Presents: Hobbs & Shaw; 2020 Birds of Prey; Skylines; 2021 Nobody; Hell Hath No Fury; Red Notice; The Matrix Resurrections.
Filmography (as stunt performer/fight choreographer): 2013 A Good Day to Die Hard; Anchorman 2: The Legend Continues; 2014 Teenage Mutant Ninja Turtles; 2016 Captain America: Civil War; Jean-Claude Van Johnson (TV); Officer Downe (+ action dir.); 2017 John Wick: Chapter 2; S.W.A.T. (TV); 2018 Deadpool 2; Creed II (+ action dir.); 2019 Alita: Battle Angel; John Wick: Chapter 3 – Parabellum; 2021 Nobody (+ action dir.).