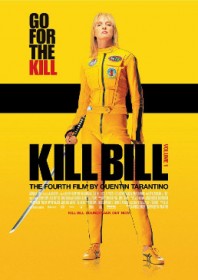 The initial reaction to Kill Bill was harsh. Tarantino's fourth film after a six year hiatus was bound to face scrutiny, especially one which shows such an extravagant disregard for what many of his fans were expecting. Kill Bill is a strange hybrid of gangster film, black comedy, Samurai-slasher and kung fu revenge – a big, bloody epic spread over two volumes. The Times labelled it a "geek's wet dream" proclaiming it to be his most "adolescent" film.
True, much of the film's content has been lifted from hours spent in grindhouse theatres with obvious references to Game of Death, Lone Wolf & Cub, the blaxploitation films of the 1970s, Lady Snowblood, Shaw Brothers and even his own repertoire. And true, much of the free-flowing dialogue that made Pulp Fiction such a gem is left wanting: the film is mostly in Japanese with English subtitles.
But, ultimately, who cares. If Kill Bill is a geek's wet dream then prepare for a clean pair of underpants.
This is a riotous homage to the B movie, the size and scale of which is quite unsurpassed. Again, Tarantino manages to redefine action movie conventions by adding depth of character to exploitative themes. The blinding, no-holds-barred fight sequences are equaled only by the film's flawless performances – particularly the excellent Thurman, who plays the vengeful 'Bride' seeking retribution on the Deadly Venoms Assassination Squad responsible for the massacring of the entire congregation on her wedding day and leaving her comatose for four years.
The motive for such brutal annihilation is unclear. Tarantino's non-linear narrative jumps back and forth and ultimately becomes clearer in Vol. 2. Nevertheless, there is just so much to talk about here: like the bit where the Crazy 88 – a sword-wielding Yakuza mob – duel our unbridled heroine (wearing Bruce Lee's legendary yellow jumpsuit) in an extended battle so bloody it had to be shown in black and white; and the background story to O-Ren Ishii (Liu), a lethal Japanese/American assassin, told via a raucous anime excerpt which makes even the most vehemently graphic manga look like Dumbo. The hardened kung fu fans (OK, "geeks") will just love the Shaw Brothers references plus the casting of cult icons like David Carradine, Gordon Liu and Sonny Chiba, not to mention Woo-ping's excellent fight choreography.
With enough energy to power a nuclear reactor, and a stonking great soundtrack to match, Kill Bill is the coolest damn thing on the planet.