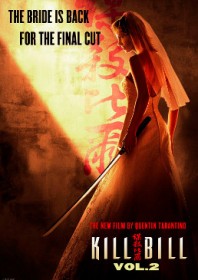 Despite the fact Kill Bill was originally devised as one complete film, there are still distinctive differences between the two parts of Quentin Tarantino's kung fu/Samurai opus. If Vol. 1 was the eastern, Vol. 2 is the western. Dusty, desert locales fuse with more trademark Tarantino dialogue and pop culture references as the full story of the 'Bride' (Thurman) is unveiled.
The remaining victims scrawled on the Bride's Deadly Viper Death List awaiting execution include retired hick Budd (Madsen) and Samurai executioner Elle (Hannah), not to mention the man behind it all, the titular Bill (a great turn from Carradine).
This follow up never really rekindles the same wild visceral carnage of its predecessor (how could it?) but it more than makes up in character development and story telling.
That's not to suggest the film is light on action. The fight with Hannah is particularly good, and Shaw Brothers geeks everywhere will adore Tarantino's heartfelt nod to the chopsocky institution with an adoring flashback to the Bride's training under the auspices of the white-brow eunuch monk, Pai Mei (Gordon Liu). The long-awaited conclusion is apathetic, beautifully handled and far from anticlimactic.
This project's success can be pinpointed to the sterling efforts of an outstanding leading lady and a director who has made this epic adventure straight from the heart. When considered as a whole, Kill Bill will no doubt remain as one of the all-time cult favourites and possibly the best tongue-in-cheek homage to far eastern cinema that the west has ever created.