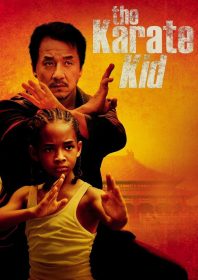 Adding to Hollywood's already busy roster of pointless 80s remakes (Nightmare on Elm Street, The A-Team, Knightrider etc.) comes this specially designed vehicle for Jaden Smith, celebrity spawn of Will and Jada Pinkett Smith who also act as the film's producers. At 11 years old, Jaden's comic timing conjures up memories of his father during his fledgling Fresh Prince of Bel-Air days, and any burden to impress as a debutante is substantially lifted given the familiarity with the original film. Which is why this version stays so true to the source, even down to quotations and narrative structure with additional skits on already well-worn routines. (For instance, when recreating the classic moment when a fly is caught using chopsticks, a fly swat is used instead).
Everything except the use of karate which, despite the title, is abandoned and replaced by Chen Gang-wu's kung fu choreography. Despite being stylistically polarised, the shift is more a statement on the way martial arts action films have evolved since the release of the original film in 1984, as Hong Kong choreography infiltrated the Hollywood mainstream and brought its high calibre of talent along with it. Like Jackie Chan, who accurately takes on the Mr Miyagi role, beard and all. His kung fu clowning makes him a perfect fit for lighter family fare, although this is a much more thorough and unflinchingly violent adaptation. Chan is offered ample space to flex his more dramatic chops, playing the lonesome, troubled sifu with far greater depth than even the original Miyagi was awarded.
The story follows Smith and his mother who relocate from Detroit to Beijing where he falls foul of the wayward school bullies, and in training scenes reminiscent of Chan's celebrated Drunken Master past, he learns the necessary kung fu moves needed to enter an upcoming tournament and regain some self respect. Director Harald Zwart, with help from the state funded China Film Group, has just as much fun visualising a contemporary China with all the romanticism of a tourist information film, utilising location shots from the Forbidden City to an obligatory training sequence on the Great Wall. But it stumbles when relying too heavily on leading actors who, although incredibly likable, are still a mixture of inexperience and incoherence, and attempts to broaden the simple scope of the original film make the set up seem less believable.