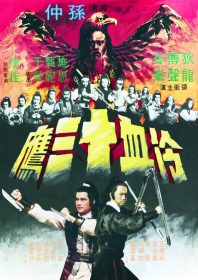 A terrific doubleheader starring Shaw Brothers mainstays Ti Lung and Fu Sheng in one of the best examples of post-modern wuxia cinema and, particularly, its links to the western. Sun Chung's direction provides a refreshing tonic to Chang Cheh's more broody, righteous potboilers, providing full-bodied characters, quirks, great performances, and a truly original vision. His great use of tracking shots, jump cuts and slow motion display new and creative ways of negotiating around the confines of Shaw Brothers' stifling Movietown studios.
Ti Lung plays Chi, one of 13 orphans trained from a young age to be an absolute bastard by his evil master, Yu Xi-hung (Ku Feng, having a devilishly good time), who assembles his own homegrown clan of loyal, marauding killers – referred to as the 'eagles' – to go out and steal all of his gold and goods. It is only when Chi is injured in battle – knifed during a raid to kill the kung fu masters responsible for putting Yu in jail – and nursed back to health by a philanthropic family, that he starts to learn the true value of compassion. He starts to go soft, which Yu takes as a personal affront; and when Chi starts to fail in his murdering duties, he absconds, forcing Yu to react by sending the rest of his cold-blooded eagles after him.
That's actually the point at which the film begins, with Chi as a starved escapee staggering through the desert and close to death. He meets a mysterious wanderer, played with an effective, unassuming charm by Fu Sheng (making his first film with a new director after a run of 25 films with Chang Cheh). The 'man with no name' helps the bandit, only for his kindness to be repaid with Chi stealing his horse and fleeing. It is an act which symbolises their continually shifting power dynamic, and their growing trust and mistrust of each other. Chi is forever questioning his new friend's motives, but also, he is all-too-willing to be shown affection.
They team up in a series of wonderful action sequences which show Sun Chung's penchant for the irreverent, working with his long-time fight collaborator, Tong Gaai. There is a fabulous set-piece in an inn – a traditional setting for wuxia storytelling – located in a King Hu-esque ghost town, which demonstrates the fabulous interplay between the two leads. And let's not forget the film's bounty of relentless weaponry, from Ti Lung's very cool three-sectioned-staff and Fu Sheng's deceptive double-sleeve knives. Not to be outdone, the film culminates with Ku Feng revealing a pair of giant, clanking metal gloves. It's a riot, and an essential slice of kung fu.