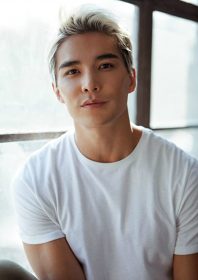 Date of birth: 11 November, 1987 (Fuzhou, China)
Style: Muay Thai, jiujitsu, wrestling.
Biography: Ludi Lin was born in Fuzhou, a city along the southern coast of China, near Taiwan. His mother is also an actor. At the age of nine, Ludi was sent to study at a boarding school in Sydney, Australia, which is where he spent the majority of his youth. At the age of 17, Ludi emigrated to Vancouver, Canada, with his mother to complete his university education. He graduated from the University of British Columbia with a double major in Dietetics and Theatre Performance. He has also studied film and TV acting in Los Angeles.
Lin developed his love for sport in Australia, where he became proficient at snowboarding (he is still a competitive snowboarder), scuba diving, and the martial arts. During a two-year period after graduating, Ludi travelled around Asia, including Thailand and Japan, which is where he studied Muay Thai kickboxing and trained in jiujitsu and Olympic-style wrestling. Upon his return to Vancouver, he continued to work as an actor, working on the shows Level Up (2012) and the TV movie, Holiday Spin (2012).
As both a fluent English and Cantonese/Mandarin speaker, Ludi has been involved in acting work in Canada, the USA and China. In 2012, he relocated to Beijing, where he had roles in films including Sorry, I Love You (2014), A Servant of Two Masters (2014), and Monster Hunt (2015), the live-action directorial debut of Raman Hui, co-director of Shrek the Third. Ludi played a magician in the film which would go on to become the highest-grossing film in China (replaced by The Mermaid in 2016). While based in China, Ludi worked with both Barbara Wong and the Jackie Chan Stunt Team. He also appeared in the Chinese comedy, Lost in Hong Kong (2015), a follow-up to filmmaker Xu Zheng's 2012 smash hit, Lost in Thailand. Ludi has also appeared in season two of the Netflix series, Marco Polo (2016).
In 2015, Ludi was cast as the Black Ranger in the reboot of Power Rangers, from Lionsgate, alongside rising stars Dacre Montgomery (Red Ranger) and Naomi Scott (Pink Ranger). In 2016, Ludi was named by Variety as an 'Asian talent to watch'. In 2017, Ludi was honoured at the Hawaii European Film Festival Awards where he received the Rising Star Award. Variety presented their 'Asian Stars: Up Next' Award to Ludi at the 2nd International Film Festival & Awards in Macao.
In 2018, Ludi played Captain Murk in Aquaman, directed by James Wan, where he had to undergo four hours of make-up and prosthetics. The film starred Jason Mamoa, Nicole Kidman, Willem Deffo and Dolph Lundgren. Ludi is part of the main cast of the Chinese-language adaptation of the UK TV series, Humans. In 2019, it was confirmed that Ludi would join the cast of civil rights-era drama Son of the South, working with executive producer Spike Lee and editor-director, Barry Alexander Brown. Lin plays Derek Ang, an Asian American fighting racism in the Deep South. Ludi is also part of the cast of the six-part Chinese-language Netflix series, The Ghost Bride (2020), playing part of a love triangle.
In 2020, he joined the #WashTheHate social media campaign alongside other notable Asian American celebrities, sharing personal stories on how the coronavirus has impacted their lives. In 2019, Ludi Lin was cast as Liu Kang in a new film based on the Mortal Kombat video game, produced by James Wan, working alongside an all-star fighting cast including Joe Taslim, Lewis Tan and Max Huang.
Speech! "In the west, there is a huge misunderstanding of what Asian culture is and what Asians are about in general… I don't blame the writers – who haven't been cultivated in the Asian culture – for not writing fully authentic roles. So I think my job is to fill those gaps in. If it's an action or a kung fu role, what is it about this person that is outside of the kung fu? Where is the martial arts in this person's life? Where does it belong, and what is the bigger picture?" Interview with Kung Fu Movie Guide Podcast, 2020.
Click here to listen to KFMG Podcast S05 Episode 59 with Ludi Lin.
Filmography (as actor): 2009 Dai M siu dui (short); 2011 The Intruders (short); 2012 The Shannon Entropy (short); Loners (short); Stasis (short); Holiday Spin; Broken Sword: Shadow of the Blade (short); 2015 Monster Hunt; Lost in Hong Kong; 2016 Marco Polo (TV); 2017 Power Rangers; 2018 Aquaman; 2019 In a New York Minute (short); Black Mirror (TV); Summer Knight (short); 2020 The Ghost Bride (TV); Son of the South; Humans (TV); 2021 The Gift; Mortal Kombat.