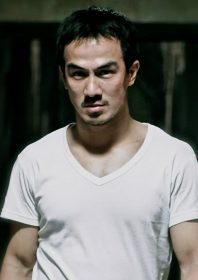 Date of birth: 23 June, 1981 (Palembang, Indonesia)
Full name: Johannes Taslim
Occupation: Actor, martial artist, model.
Style: Judo, wushu, taekwondo, boxing.
Biography: Joe Taslim was born in Palembang, the capital of South Sumatera in Indonesia. He picked up martial arts at an early age, learning wushu, taekwondo, and eventually settling on judo. Growing up, he enjoyed going to the cinema, and this is where he started to harbour the ambition of becoming an actor. While still in high school, he won his first national judo competition, which eventually led to a career as a professional judo athlete. He was encouraged by his father, who was also his judo coach. From the mid-90s until his retirement due to a knee injury in 2009, Joe Taslim competed in Asian and national championships, winning several gold medals. He won a gold medal at the Southeast Asia Judo championships in 1999, and a silver at Southeast Asian Games in 2007.
During his judo career, Joe also did some modelling and, towards the end of his competitive career, he made the move into acting. After supporting roles in the Indonesian films Karma (2008) and Rasa (2009), he landed the role of Jaka – a tough sergeant in a team of special forces operatives – in The Raid: Redemption (2011). He first contacted the director, Gareth Evans, after the release of Evans' first martial arts film, Merantau (2009), asking to work with him on his next project.
Joe followed the huge international success of The Raid with a role in HBO Asia's first action horror, Dead Mine. In 2013, Joe made his Hollywood debut as the villainous mercenary Jah in Fast & Furious 6, working with filmmaker Justin Lin, and fighting with two of the film's main protagonists, played by Tyrese Gibson and Sung Kang. In 2016, Joe reunited with the director Justin Lin once again to play the evil alien, Manas, in Star Trek Beyond.
In 2018, Joe starred in the critically acclaimed fight film, The Night Comes for Us, directed by Timo Tjahjanto – one half of the Indonesian horror filmmakers, the 'Mo Brothers'. The film, based on Timo's own graphic novel, was released internationally through Netflix, and saw him reunite with The Raid co-star, Iko Uwais, and the Uwais fight team. Joe worked again with the Uwais fight team for Indonesian action comedy, Hit & Run (2019), which also starred The Raid's Yayan Ruhian.
Joe has also appeared on television. In 2017, he landed the role of Li Yong, an enforcer for the Long Zii gang and the main rival of the central character in the Cinemax original series, Warrior. The show is based on the writings of Bruce Lee and executive produced by Justin Lin, Jonathan Tropper and Shannon Lee. The show has run for two seasons.
In 2019, Joe was cast as Sub-Zero in a new film version of the hit video game, Mortal Kombat, released in 2021. In 2020, Joe made his debut in a South Korean film, working with first-time director, Choi Jae-hoon, for the period martial arts film, The Swordsman.
Joe married his wife, Julia, in 2004. Together they have three children. He lives in Jakarta.
Speech! "Acting, for me, is my playground. I don't feel like I'm working when I'm on set… I don't really think about where my career is going to go (or) what kind of award I have to get. If I can do this for the rest of my life – just to be an actor, to play characters, and to be on set – I would be very happy." Interview with Kung Fu Movie Guide Podcast, 2020.
Click here to listen to KFMG Podcast S05 Episode 62 with Joe Taslim.
Filmography (as actor): 2008 Karma; 2009 Rasa; 2011 The Raid: Redemption; 2012 Dead Mine; 2013 Fast & Furious 6; La Tahzan; 2016 Star Trek Beyond; 2017 Surat Kecil Untuk Tuhan; 2018 The Night Comes for Us; 2019 Hit & Run; Warrior (TV); 2020 The Swordsman; 2021 Mortal Kombat.