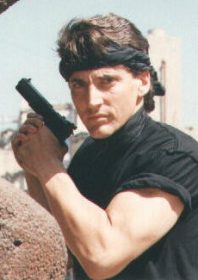 Date of birth: 30 July, 1962 (Los Angeles, California)
Full name: Loren Rains Avedon
Occupation: Actor, producer, martial artist.
Style: Taekwondo, Hapkido.
Biography: The martial arts film star Loren Avedon was born in Los Angeles in 1962. He is the nephew of the fashion photographer, Richard Avedon. His father, Burt S. Avedon, was a US Naval Aviator who served in the Second World War and Korean War. His mother worked in advertising as a producer and director. His first on-screen appearance was at the age of five in a series of Carnation Milk commercials. From the age of 10 to 11, Loren lived in London, UK, which is where he first discovered the films of Bruce Lee and explored an interest in martial arts. He was enrolled at the American School in London.
Loren graduated from Beverly Hills High School in 1980. While in college, he signed up to the Jun Chong Tae Kwon Do school in Los Angeles. Loren has a 9th degree black belt in both taekwondo and hapkido. While at the school, he trained under the instruction of martial artists Phillip Rhee and Simon Rhee, who also worked in the film industry as stunt performers, fight choreographers and actors.
His earliest acting roles came as a result of his friendship with Phillip Rhee, who used him as a fighter in the film, LA Streetfighters (1985), which Rhee also produced. Loren was selling used cars at a Dodge dealership when he was cast as the lead actor in No Retreat, No Surrender 2: Raging Thunder (1988). He auditioned for the film's producer, Roy Horan, after No Retreat, No Surrender lead actor Kurt McKinney decided not to return to the franchise. Within a week, Horan had signed Avedon to a three-picture deal with his company, Seasonal Films, and he was flown to Thailand to make the film for the Hong Kong action director, Corey Yuen Kwai. Loren would go on to star in No Retreat, No Surrender 3: Blood Brothers (1990) and The King of the Kickboxers (1991), both for director Lucas Lo. The latter also starred Billy Blanks and Keith Cooke, and was filmed in Thailand over the course of four months. The final fight scene between Avedon and Blanks took two weeks to film.
Loren did not remain with Seasonal Films following the end of his contract. He was offered a three-picture deal with PM Entertainment, but refused. In an interview with City on Fire, Loren blamed his falling out with the actor, Sherrie Rose, on the set of The King of the Kickboxers as to the reason why he was unable to capitalise on the success of his work with Seasonal Films.
As well as working in the straight-to-video market, Loren has done acting work in television, including hit shows Baywatch and Martial Law starring Sammo Hung. In 2000, Loren worked with the prolific Hong Kong director, Godfrey Ho, for Manhattan Chase, reuniting with his Raging Thunder co-star, Cynthia Rothrock. The film also starred its producer, Steve Tartalia, who first met Loren in Hong Kong during the making of The King of the Kickboxers, alongside Vincent Lyn, Mark King and Jerry Trimble.
In 1997, Loren became the President of United Resources Management Inc which provides help for America's needy. In 2009, he opened a training studio in Hillo, Hawaii, for the non-profit organisation, The Penn Hawaii Youth Foundation, which teaches martial arts to disadvantaged children. Loren lives in Florida and continues to tour the world teaching martial arts seminars.Loren married in 2020, and ha has a daughter from a previous relationship.
Speech! About working on No Retreat, No Surrender 2: Raging Thunder: "When you're around greatness, it brings you up… I was surrounded by some of the greatest martial artists of that day in the world, and I didn't really know that. I was there to do a job, and I was going to do it to the very best I could." Interview with Kung Fu Movie Guide Podcast, 2020.
Click here to listen to KFMG Podcast S05 Episode 57 with Loren Avedon.
Filmography (as actor): 1984 Furious; 1985 L.A. Streetfighters; 1988 No Retreat, No Surrender 2: Raging Thunder; 1990 No Retreat, No Surrender 3: Blood Brothers; 1991 The King of the Kickboxers; In Living Color (TV); 1992 Fighting Spirit; 1993 Baywatch (TV); 1994 Thunder in Paradise (TV); 1994 Operation Golden Phoenix; 1995 Virtual Combat; 1996 Carjack; 1998 Deadly Ransom; 1999 Martial Law (TV); 1999 Tiger Claws III; 2000 Manhattan Chase; 2001 The Silent Force; 2002 The Circuit; 2002 The Agency (TV); 2003 Alias (TV); Into the Heat; 2004 She Spies (TV); 2005 Bones (TV); 2006 The Circuit III: Final Fight; 2007 24 (TV); 2008 Chuck (TV); 2015 Risk Factor.