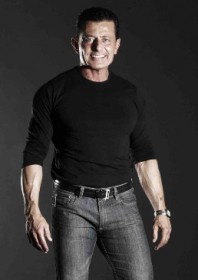 Date of birth: August 25, 1954 (Akron, Ohio, United States)
Occupation: Actor, kung fu instructor, personal trainer, bodyguard, web designer.
Style: Kung fu
Biography: Don Niam is an actor, kung fu expert and personal trainer most famous for his role as the villain Stingray in the 1993 Godfrey Ho film Undefeatable, which has become a cult classic. Don was born in Akron, Ohio, the youngest of three sons to parents who owned a restaurant business. His father was also a recruiter for the Notre Dame football team. At school, Don was on the wrestling team and graduated with an Associate Degree in Marketing at the University of Akron. At the age of 19, he first discovered a passion for kung fu after watching the ABC TV series Kung Fu starring David Carradine. Don became a model student at an Akron-based kung fu class and eventually opened his own school at the age of 23. He also trained in the Choy Lee Fut system in San Francisco and studied under Hung Fut Grandmaster Tai Yim in Maryland.
Tai Yim was in talks to bring a contact from Hong Kong to America to shoot a martial arts film with the intention of offering Don a role in the production. At the age of 36, Don eventually relocated to Los Angeles to pursue a career in movies. He took acting classes and supplemented his income working as a personal trainer in Beverly Hills. Due to work commitments, Don had to eventually decline a role in Tai Yim's film which was eventually released as Honor and Glory and directed by Godfrey Ho.
After a demonstration of his kung fu skills in front of fight choreographer Eric Lee, Don landed a small role in the 1992 film Out for Blood, starring Don "The Dragon" Wilson. That same year, Don was contacted by his master, Tai Yim, and asked to come back to Maryland to meet with the director Godfrey Ho, who offered Don the role of Stingray in his next US-based kung fu production, Undefeatable. Don was cast in the role of sadistic serial rapist and madman Stingray because of the intensity of his eyes. The film reunited cast members John Miller, Cynthia Rothrock and fight choreographer Robin Shou who had all previously worked with Ho on Honor and Glory. Since the film's release and the advent of the internet, the film's closing fight scene has become a viral YouTube sensation with over 11 million views. The film Undefeatable has now become a cult classic.
Don landed another role as a heavy in the 1996 film Baja Run and played a hitman in the TV series L.A. Heat, produced by Joseph Merhi's PM Entertainment production company. Don worked on a script which was picked up by the film company Nu Image and assigned to the star American Ninja actor David Bradley, but the film was eventually put on hold. Don worked in a number of different jobs while based in Los Angeles. He worked as a kung fu instructor, managed a strip club and worked as a bodyguard for a Saudi princess.
After six years in Los Angeles, Don moved back to Ohio where he opened another kung fu school and created a kickboxing-based fitness programme called Nitro Kick. Don now lives in Las Vegas, Nevada, where he works as a personal trainer and web designer. He continues to act, featuring in an episode of the TV series Breaking Vegas for The History Channel and appearing in TV commercials.
Speech! On Undefeatable: "It took forever for the film to be released on DVD and I'm not sure why the film is so popular today, other than the fact that YouTube and the internet create a great venue for visibility. I do think the over-the-top acting and cult martial arts, almost horror flick look that Undefeatable has plays a big part in its popularity today." In discussion with Mike Fury, 2010.
Click here to listen to KFMG Podcast S01 Episode 07 with Don Niam.
Filmography (as actor): 1992 Out for Blood; 1993 Undefeatable; 1995 Justine: Exotic Liaisons; 1996 Baja Run; 1997 L.A. Heat (TV).