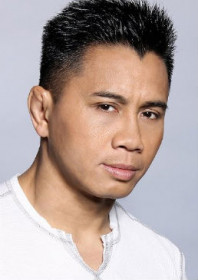 Date of birth: 25 May, 1972 (Ho Chi Minh City, Vietnam)
Full name: Anh Cung Le
Style: Sanda, kickboxing, taekwondo, Sambo, Vovinam, MMA, wrestling.
Occupation: MMA fighter, actor.
Biography: Cung Le was born in Saigon, South Vietnam (now Ho Chi Minh City). Three days before the Fall of Saigon in 1975, his mother managed to escape with the family via helicopter. After spending a few months in a refugee camp in the Philippines, the Le family were sent to San Jose, California.
As a reaction to being bullied, Le became involved in the martial arts. His mother enrolled him in taekwondo at the age of 10. He wrestled competitively from the age of 14, and also took up boxing. He wrestled for West Valley College in Saratoga, California, and won the California Junior College State Championship in 1990. He started training in Sanda and kickboxing from the age of 19, later pursuing a professional kickboxing career.
Le won three US Open International Martial Arts Championships from 1994-96. He won four US National Championships. Le was undefeated during his professional Sanshou/kickboxing career, taking part in 17 fights from 1997 to 2005. He captained the US national Sanshou team at the World Wushu Championships in 1997 and 1999. In 2001, he won the International Kickboxing Federation Pro Light Heavyweight Sanda World Title.
Le made his mixed martial arts debut in 2006, winning his fight with Mike Altman by knockout. In 2008, Le defeated fight veteran Frank Shamrock to become the Strikeforce Middleweight World Champion. Le only lost one professional MMA fight, when he was defeated by Scott Smith in 2009. Le later won the rematch. Following the UFC's purchase of Strikeforce, Le signed with the UFC, making his debut in 2011 in which he lost to Wanderlei Silva. He would go on to win his next two UFC fights. His final fight for the UFC in 2014 was against Michael Bisping, losing by knockout.
Following the fight, Le became embroiled in a dispute over performance enhancing drugs, which initially resulted in Le being suspended from competing in the UFC – a decision they later rescinded. In 2014, Le – along with MMA fighters Jon Fitch and Nate Quarry – filed a lawsuit against the UFC's parent company, Zuffa LLC, accusing the UFC of participating in anti-competitive practices that hindered fighters. In 2015, Le announced his retirement from MMA.
Following a few small appearances in film and television, Cung Le appeared in a number of larger roles in a number of feature films in 2009. He played the Marshall Law character in a live-action version of the Tekken video game; he appeared alongside Channing Tatum in the sports drama, Fighting; he starred alongside Dennis Quaid and Ben Foster in the sci-fi film, Pandorum; and he also appeared in the Hong Kong martial arts film, Bodyguards and Assassins, opposite Donnie Yen.
Le made his starring-role debut in the 2012 film, Dragon Eyes, produced by Joel Silver and featuring Jean-Claude Van Damme. In the same year, he appeared as Bronze Lion in RZA's all-star fight film, The Man with the Iron Fists. In 2014, he appeared opposite Dolph Lundgren in Puncture Wounds. In 2015, he appeared in the AMC TV show, Into the Badlands. Le has also worked with Scott Adkins and Marko Zaror in the 2017 film, Savage Dog, and Antonio Banderas in Security.
Cung Le married his wife, Suzanne, in 2009 and in 2010, the couple had their first child together. He has two children from a previous marriage.
Speech! "I have that work ethic. I think I'm going for a title fight every time I get a part in a movie. Especially my own movies – now it's like a title shot. No one is going to stop me." In conversation with Kung Fu Movie Guide, 2017.
Filmography (as actor): 1997 Sleight of Hand; 2004 Kwoon; 2005 Dark Assassin; 2007 Blizhniy Boy: The Ultimate Fighter; 2009 Fighting; Pandorum; Bodyguards and Assassins; Tekken; 2010 True Legend; 2012 Dragon Eyes; The Man with the Iron Fists; 2013 The Grandmaster; 2014 Puncture Wounds; 2015 Code Name: The Dragon (short) (+ dir, pro, scr.); 2016 Hawaii Five-O (TV); 2017 Security; Into the Badlands (TV); Savage Dog; 2018 Infected; Code Name: The Dragon.