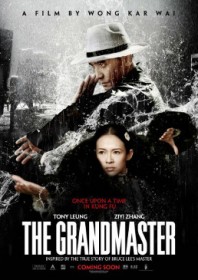 Yet another Ip Man biopic – perhaps the best one so far at communicating the minutia of southern Chinese kung fu systems despite being overbearingly worthy and self indulgent.
Art-house director Wong Kar-wai introduces his woozy neon romance into a wire fu setting, jostling for position over Yuen Woo-ping's hyper-stylised action sequences. It may have worked wonders for Zhang Yimou (Hero, House of Flying Daggers) but here the contrasting sections jar uncomfortably. The film eventually settles into a typically Wong Kar-wai vision of lost love in fifties Hong Kong which embraces the director's trademark touchstones of European and silent cinema.
This is when the film fully descends into platitudes, outlining the tumultuous journey of Ip Man through his association with Gong Er (Zhang Ziyi), the martial daughter of the Gong family fighters, who seeks revenge for the death of her father at the hands of a wayward pupil. Clever archive footage glides viewers through some of China's most turbulent times, and Ip Man goes from being a respected Wing Chun master in Foshan to losing his family and status following the Japanese invasion.
Wong Kar-wai deals with the Ip Man story chronologically but in adhering so attentively to the truth his film inevitably falls short in terms of narrative clarity. Characters are introduced and neglected. Others – like the role of Ip Man's wife – are hastily abandoned altogether.
The war is mostly truncated following a blistering first hour in which Ip Man is nominated by a secretive Stonemason-esque council of southern kung fu masters, who elect him as the assembly's new president. But Ip Man can only assume power after a physical test against representatives from the schools of Bagua, Xingyi, Hung Gar and Tai Chi in a Game of Death–style procession within an elegant Chinese brothel. The respect shown to both nobility and form has been expertly observed and the film never trumps the genius of this extended fight sequence.
Ip Man is played stoically by Tony Leung with all the steely understatement he has displayed for his numerous other Wong Kar-wai characters. But the film does little to expand on the man and only acts to heighten his mysticism. Wilson Yip's first Ip Man film (which is the more logical comparison even if that version never leaves Foshan) may have flagrantly honoured jingoism over the truth, but at least it was never boring.
Either The Grandmaster is an art-house film desperately crow-barring in action scenes or it is an exemplary kung fu display with an overbearing pretentiousness. Either way it is heavily compromised.