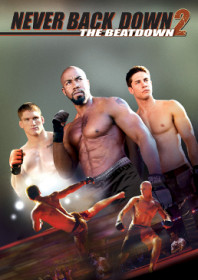 Michael Jai White reinvents the Never Back Down franchise with a socially conscious, character-driven sequel. None of the original characters return, thank god. Instead, White – in his directorial debut – charts the personal and competitive exploits of four angry young men hoping to take part in an underground, UFC-style cage fighting event called The Beatdown. The four bond and eventually fracture over the trials of their ex-con sensei, Case Walker (White), who lives like some kind of buff homeless guy in a trailer and faces perpetual grief from racist white cops. No one is infallible, and the film does well to build sensitive motivations for each member of the ensemble. One is a bullied comic book nerd; one's an injured, insecure boxing Lothario; one is the oldest child in a single mum household who needs to help pay the bills; and the main character is Mike, a frustrated wrestler with daddy issues.
This non-related sequel does better than the first film in positioning MMA as an all-round transformative sport which can be both healthy and destructive, depending on the individual. Once the boys start training, the sport is shown to alleviate most of their personal trauma, as well as develop self-confidence, build a sense of community, improve fitness and impress the girls. But the film also shows the sport's corruptible power, displayed in the slow unraveling of Scottie Epstein's character who strays too far from Case Walker's grounded instruction. "It's about emotional content, not anger," Walker repeats in a knowing nod to Enter the Dragon. At times, the film feels more like a personal study on the physical and mental attributes required of a top fighter and less like an overtly aggressive teen movie, which seemed to be the original brief (although the frat parties, jock posturing and angry rock music is all still here). To add further endorsement of the film's message, Brazilian jiu-jitsu icon Lyoto Machida even drops by to play himself in a nice, albeit brief, sparring cameo.
AKA: The Fighters 2: The Beatdown.