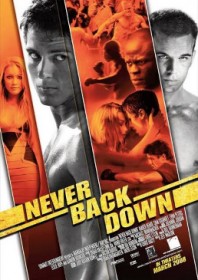 Concussed teen movie attempting to do for mixed martial arts what Grease did for leather jackets and bubblegum. This is essentially The Karate Kid for The O.C. generation, exonerating the contemporary jock persona by adding metrosexual tendencies and substituting the football field for the sweat and grapple of the MMA arena. This physically happens in the form of Jake Tyler (Faris), an ex-collegiate football star who moves from Iowa with his widowed mother and kid brother to the sun-drenched playboy mansions of Florida. Jake is no ordinary high school beefcake, though. He reads the Iliad, befriends an Xbox nerd and charms the school babe, all on his first day.
The problem is she happens to be dating the school douchebag, Ryan McCarthy (Gigandet, who was actually in The O.C.). He organises bare knuckle brawls at the sort of house parties you find in Kanye West videos, and offers newbie Jake a welcoming gift of a socially humiliating UFC-style ass whopping. Angry Jake quickly enrolls at the local 24 hour mixed martial arts school where he befriends Brazilian jiu-jitsu sage Jean Roqua (Hounsou), discovering a kindred spirit battling his own inner demons.
Throughout the training montages and relentless emo music, Jake is almost ready to confront Ryan at the Beatdown – a no holds barred underground MMA tournament, the ultimate aim of which appears to be the opportunity to get on YouTube.
All of which follows a well worn and wearily familiar path to most high school fight movies. As a PR exercise for the sport of MMA it is more damaging as it possesses a brainwashing accuracy in adding a romantic gloss over the violent fight scenes. But any sane person should have the common sense to run a mile from these godawful characters. Apart from Hounsou's Mr Miyagi role, which is the best thing about the film: convincing, sensitive, highly skilled and played excellently by the Blood Diamond star.