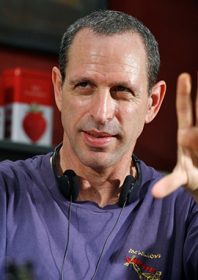 "Some people are trouble makers. Some people are trouble solvers. I'm a trouble solver."
Isaac Florentine is one of those rare directors who possesses a style of filmmaking all of his own. Within a few minutes of watching one of his many great action movies, you will quickly realise you are in the world of Isaac Florentine. He wears his love for spaghetti westerns on his sleeve, almost as much as his passion for the martial arts. As an expert martial artist and karate instructor, he is keen to capture technique in his fight choreography. His combat sequences are often filmed in clean, complete movements, using close-ups and moving the camera in sync with the action. His style therefore demands the best physical performances from his actors, so it's no surprise that he has worked with some of the best in the business: Michael Jai White, Jean-Claude Van Damme, Dolph Lundgren and, his main muse, Scott Adkins. The 2020 film Seized marked his ninth collaboration with Scott, and the two are very much the Scorsese and De Niro of the martial arts movie world. As well as the popular Ninja films, the two worked to transform the sequels to a little-known boxing movie called Undisputed into modern martial arts classics, introducing Adkins as the iconic character of Russian MMA fighter, Yuri Boyka. We discuss Isaac's upbringing as a film-obsessed kid in Israel who followed his passion for martial arts and movies to Hollywood – and how a stint working on the amazingly successful Power Rangers TV show helped to launch his career. For more information about Isaac Florentine, visit his IMDb page and on Facebook.
Last week, we learned of the sad and sudden death of Italian martial artist and actor, Max Repossi, who has passed away at the age of 33. I first met Max at the 2018 Fighting Spirit Film Festival in London, and in 2019, we recorded a conversation which would appear on Episode 43 of the podcast. We continued to keep in touch, and he became a good friend and supporter of the show. In tribute to Max, I have added the full, unedited conversation we recorded in September 2019 at the end of this episode. Learn more about Max via his IMDb page and via Facebook.