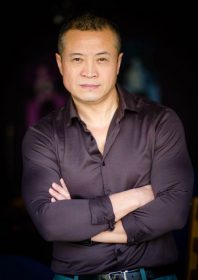 "To get to that level, to become a super movie star, it's not easy… but at least the stars set a great example to the rest of the world and young kids to try their best and fulfil their dreams."
When a stunt performer couldn't get the right shot needed during a 70ft fall on the set of Vietnamese superhero movie, Lôi Báo (2017), the film's action director, Vincent Wang, made a quick decision. With time running out, Vincent relieved the stunt performer of their duties, strapped himself to a harness and performed the stunt himself – much to the shock of the rest of the crew. He nailed it first time. No surprise, really, considering Vincent's over two-decade career as a stunt performer in Hollywood, working on some of the largest action films of all time, including the Bond franchise (Tomorrow Never Dies, Die Another Day, Skyfall), The Bourne Ultimatum, The Force Awakens and work in the Marvel Cinematic Universe. In more recent years, Vincent has pursued a career as a fight choreographer and action director, where his credits include Zhang Yimou's big-budget creature feature, The Great Wall (2016) – starring Matt Damon and Andy Lau – and work in Vietnam with the versatile director, Victor Vu. His most recent project is Cruella, a live-action prequel to 101 Dalmatians starring Emma Stone and Emma Thompson.
During this face-to-face conversation – recorded in March 2020 just before lockdown restrictions were put in place by the UK government following the coronavirus pandemic – we discuss his upbringing in northwest China, where he was selected to train at a Chinese wushu school from the age of six. It was his move to the UK in 1991 to teach martial arts which would eventually lead him to work in the film industry; but martial arts remains his true passion, not just for self-defence purposes, but also as a way of building confidence and improving health. For more information about Vincent Wang, follow him on Twitter, Instagram and YouTube.