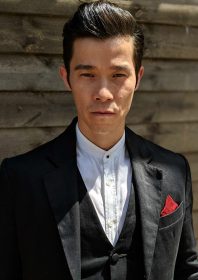 "To work on a really good TV show in a fantastic role – and, on top of that, to have crossed paths with Bruce Lee [and] play some small role in his legacy – is an absolute dream come true."
As a lifelong fan of Bruce Lee, the chance to play a starring role in HBO's Warrior TV series – based on a story by the late kung fu movie star and executive produced by his daughter, Shannon Lee – was a once-in-a-lifetime opportunity. And he relishes every scene in his role as Young Jun; the entitled, violent, and arrogant heir to Chinatown's Hop Wei gang, a criminal syndicate operating in late 1870s San Francisco at the height of the Tong Wars. Jason Tobin adds heart, nuance and depth to the character through his brotherly friendship with new Hop Wei recruit, Ah Sahm (played by fellow British actor, Andrew Koji). A sexy, heady mix of political drama, racial tension and great fight scenes, the series has been heralded as one of the best TV shows of 2019 by Rolling Stone and has found a devoted audience since first airing on Cinemax in April 2019. Season two is now in post-production with a third season in development, while the first season is available right now on Blu-ray in the USA.
Born in Hong Kong, educated in the UK, and living in Los Angeles from the age of 18, Jason sees acting as the perfect way to 'honestly express oneself' – to paraphrase the words of his hero, Bruce Lee – and tell the kinds of stories he wants to tell. He does this not just through his own work as an actor, but also as a writer and director. In this episode, we discuss his theories on acting, his long-standing friendship with the filmmaker Justin Lin (who gave Jason his first breakout role in 2002's Better Luck Tomorrow), his appearances in many Hong Kong and American action movies – from Beverly Hills Ninja to The Fast and the Furious: Tokyo Drift – to his excellent performance in Warrior. For all the latest Jason Tobin news, follow Jason on Twitter and Instagram.