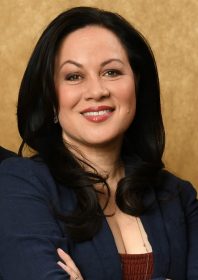 "He led a very intentional, impactful and inspirational life… [and] he left behind this wealth of information and teaching and learning which can continue to be amplified." Shannon Lee.
Shannon Lee was only four years old when she lost her father, the international martial arts superstar, Bruce Lee, but her father has continued to have a lasting impact on her life. As the CEO of the Bruce Lee Family Companies and Chairperson of the Board of Directors for the Bruce Lee Foundation – a not-for-profit social enterprise – Shannon has been responsible for upholding the legacy of her father through numerous channels, including podcasts, retail, social media, books, documentaries and TV shows, educating future generations on Bruce Lee's work and philosophy.
Alongside Jonathan Tropper (Banshee) and Justin Lin (Fast and Furious), Shannon is an executive producer on the new 10-episode martial arts drama series, Warrior, which has debuted on Cinemax. The show, set during the brutal Tong wars of San Francisco's Chinatown in the latter half of the 19th century, is based on an original concept by Bruce Lee. On this episode of the podcast – the first in our fourth season – Shannon explains how Bruce Lee's original treatment evolved, and how a talented and diverse cast helped to bring it to life. We also discuss how her brother, Brandon, convinced her to move to Los Angeles to pursue her own acting career, and how his untimely death caused her to take a different tack.
Andrew Koji was on the brink of giving up acting when he landed the lead role of Ah Sahm in the show, playing a martial arts prodigy who emigrates from China to Chinatown and becomes exposed to a life of crime and vice. Following roles in TV and theatre in the UK, it was a chance audition for Warrior which would turn his life around. He will be relocating to Los Angeles later in the year, and we managed to catch up with him as his breakout role is now being seen around the world. He explains what its like being a British-Asian actor working in the UK, and how he managed to tap into his formative years training in the styles of karate and Shaolin kung fu to play the role of Ah Sahm. Keep up-to-date with Andrew Koji on Instagram.
Warrior is on Fridays at 10pm on Cinemax. Visit the Cinemax website for more information. For the latest Bruce Lee news, visit brucelee.com and follow @brucelee on Twitter, Facebook and Instagram. A big thank you to Alyssa Michnevitz at HBO and Cinemax for arranging interviews with Shannon Lee and Andrew Koji.