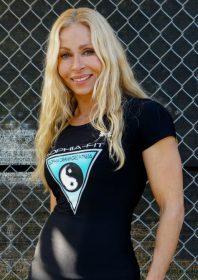 "I was this ragamuffin tomboyish girl who had a lot of spirit… I had a desire to do something and have a skill, but I didn't know what that skill was going to be yet."
Buffy's stunt double and former Power Ranger, Sophia Crawford, earned her spurs as a stunt performer working in Hong Kong's raw and relentless action movie industry in the early 1990s. She found herself part of an era of exceptional, female-fronted martial arts films, working with the likes of Moon Lee, Sibelle Hui and Yukari Oshima, performing all of her own stunts in conditions that were sometimes less than perfect. It was in Hong Kong where she discovered her love for the martial arts, acting and stunt performing, following her troubled years as a teenager growing up in London as a directionless, rebellious punk rocker, expelled from five schools and eager for adventure.
Her journey is one of dogged determination, perseverance, blood, sweat and tears – from Hammersmith to Hong Kong to Hollywood, doubling for the likes of Madonna, Sienna Miller and Renée Zellweger. Now she has accepted a new challenge away from the movie business, having moved to Atlanta, Georgia, with her husband – the stunt coordinator Jeff Pruitt – to run her own business, a coffee shop called The Federal Coffee House. In this conversation, we discuss her approach to stunt performance, the challenges of working in an unfamiliar country, and her time on two of the biggest martial arts TV shows of all time: Mighty Morphin Power Rangers and Buffy the Vampire Slayer. Follow Sophia on Instagram.