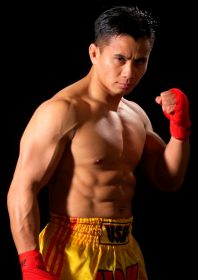 "I think I'm going for a title fight every time I get a part in a movie."
Cung Le is channelling the same grit and determination which made him a champion MMA fighter into his career as an actor in Hollywood and Asia. Over the past decade, the former UFC fighter, Strikeforce Middleweight Champion and highly decorated martial artist has balanced his professional fighting career with appearances in some superb martial arts movies, including Fighting, The Man with the Iron Fists, Bodyguards and Assassins, The Grandmaster and True Legend. Last year, he took on Antonio Banderas in Security and Scott Adkins in Savage Dog, and the movies keep rolling in; he will next be seen in Europe Raiders, the third in the Raiders trilogy, alongside Tony Leung and Kris Wu.
Cung's story is an inspiring one. He fled war-torn Vietnam as a child to settle in California, and overcame prejudice at high-school to become a medal-winning wrestling champ. He explains his journey as a multi-disciplined martial artist, culminating in his many appearances for the UFC, before his acrimonious split from the organisation amid accusations of doping. He continues to fight for the fair representation of fighters contracted to the organisation, and is vocal about his opposition to how the company is run. We discuss this topic as well as geeking out about working with visionary director Wong Kar-wai, saving the world in Pandorum, and how to make that difficult leap from the cage to the screen.
For all the latest Cung Le information, follow him on Twitter and Instagram.