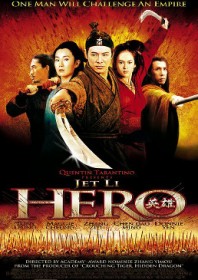 Hero is a monumental picture; like looking at a King Hu movie through a kaleidoscope. Chinese art director Zhang Yimou brings together an ensemble cast of exquisite talent to create a period martial arts tale of epic proportions, whilst meticulous Australian cinematographer Christopher Doyle scours the land for some of the most breathtaking visuals ever captured in an action movie. At times the film is quite overwhelming, and a small screen can never do it justice.
Hero is the story of China's first Emperor, Lord Qin, and his unification of the seven kingdoms. He faces assassination at every turn. Superior swordsman Nameless (Jet Li) is brought in to protect him, detailing the story of how he quashed a rebellious attack engineered by Broken Sword (Tony Leung) and his wife Flying Snow (Maggie Cheung). Lord Qin, however, has contrasting views on the plight of his nameless warrior, and in a series of jaded flashbacks, the film slowly unravels the truth behind the uprising.
Yimou bathes each retrospect with shades of varying colour as to not confuse the viewer, so we see Broken Sword duel majestically with Lord Qin in a cavalcade of luscious green, and yellow autumn leaves are majestically jostled via the mind control of master sword fighters Flying Snow and her female servant Moon (Zhang Ziyi), both in striking red garments. The film is not really about the pursuit of truth. At its heart, this is a humanist tale of honour, love and loyalty during a chaotic period of China's history.
The action scenes equal the visuals in their remarkable aplomb. Choreographed by wire-fu maestro Tony Ching, Jet Li and Donnie Yen clash sabers in a rain drenched set piece near the movie's start which is utterly beguiling, and in another classic sequence, Jet and Tony Leung glide across a still lake with all the balletic grace of birds in flight.
With Miramax backing, Hero was launched as another Crouching Tiger in the west, but there is so much to distinguish the two. An astonishing, tremendous film.
AKA: Jet Li's Hero; Quentin Tarantino Presents Hero