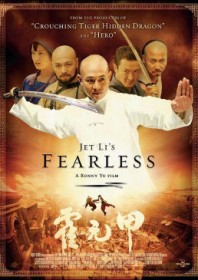 By playing Hou Yuen-chia, Jet Li can lay claim to three of the most vital roles in Hong Kong cinema, alongside Wong Fei-hung and Fong Sai-yuk (four if you include his ode to Bruce Lee in Fist of Legend). Yet in Li's hands there is very little to distinguish between them. His upstanding portrayal of Chinese virtuosity is a trait he wears well in any costume. But never has a Jet Li film looked so sycophantic, and glitteringly western in its sensibility, than this one.
Fearless is a huge kung fu biopic made in the Hollywood style with elaborate sets, rousing music and, above all, a strong nationalist streak certifying Jet Li as the ultimate Chinese hero – the sort children would study in classrooms. He's Jesus with a three-sectioned staff.
Ronny Yu delivers overblown romanticism in all the right places, but the first hour is the best, where Hou is portrayed as a turn-of-the-century hothead prone to lapses of kung fury, smashing his way through the best fighters in town to become a number one bastard.
There are two standout fight scenes – one above a platform awning at a martial arts festival, and a jug-throwing uber fight with a rival master who is killed quite badly with a fatal punch rupturing his heart. As the students of the deceased retaliate by killing Hou's mother and daughter, he flips out and ends up on a quest for enlightenment, working in a paddy field for two years.
When Hou returns home, western influences and rapid modernisation has suffocated his prestige and he is forced to fight again to prove his worth, beating foreign wrestlers in order to reclaim his status as a national hero, some of which is true.
Hou Yuen-chia is the poisoned master that Bruce Lee avenges in Fist of Fury and there is an attempt to link the two films, although this is far too elaborate to ever work as a prequel. It is a movie about star power alone, so in that respect, it is pretty much your quintessential Jet Li film.
AKA: Jet Li's Fearless