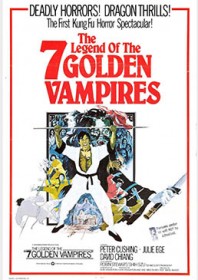 Michael Carreras – former head of British studio Hammer Films – instigated this martial arts-fused appropriation of the Dracula myth with the Shaw Brothers at the height of the early 70s kung fu boom in the west. Shot entirely in Hong Kong, this was Hammer's spirited attempt to move away from the type of Gothic horror which had made them famous throughout the 1950s and 60s. The gamble didn't pay off: the film flopped and Hammer were bankrupt a few years later. In Hong Kong, however, the film can be seen as something of a forerunner to the unique brand of supernatural-fu popularised many years later by Sammo Hung with his ghostly capers Encounters of the Spooky Kind and Mr. Vampire. Actually, perhaps credit should also go to Lau Kar-leung, who acted as a young fight choreographer and extra on this film alongside regular sparring partner Tong Gaai. Lau was the first to understand the cross-genre potential of mixing kung fu action with horror when he made The Spiritual Boxer in 1975 for Shaw Brothers. Those films dealt with a more indigenous form of Chinese occultism, favouring traditionally-robed decaying vampires that hop (known as 'jiangshi'), rather than the European tradition of tailored suits, garlic and crucifixes. (In this film, the famed Dracula hunter Professor Van Helsing lectures a Chinese team on how crucifixes will be useless against Chinese vampires, and instead they should be confronting the monsters with an image of Buddha!).
Christopher Lee wanted nothing to do with this, so John Forbes-Robertson takes his place as Dracula (the first time someone other than Lee played Dracula in a Hammer film), who possesses the body of a traveling Taoist priest (Chen Shen) in 19th century Transylvania. The haunted monk leads a leery army of the undead from his base camp in a rural Chinese village, where the zombies kidnap young females and, during the chaos, get them to flash their breasts at the camera. Peter Cushing plays Professor Van Helsing for a fifth time. He gets local support from baby-faced hero David Chiang to lead an expedition into Dracula's lair, which is actually the Shaw Brothers studio doused in heavy dry ice, red lighting and bubbling cauldrons.
Chang Cheh was on hand to help direct the Hong Kong crew, mainly as a result of language barriers between the studio staff and regular Hammer director Roy Ward Baker. Although Chang Cheh is not officially credited, his mark is all over this: particularly the presentation of the titular Seven Golden Vampires, who are somewhat Venom-like with their skull masks, long hair and martial movements. These vampires are more commonly linked with the native jiangshi, and coupled with the broad and diverting kung fu sequences, the film displays a clear willingness from the British studio to involve eastern concepts. However, many critics have isolated a particularly pernicious colonialist slant to this co-production. Stefan Hammond in his book, Sex and Zen & A Bullet in the Head, writes on how all of the Chinese characters die at the end, apart from Lau Wai-ling's heroine, who has the foresight to shack up with Van Helsing's foppish son. In contrast, ex-Bond girl Julie Ege turns toxic after a vampire gnawing and dies following her dalliance with the central Chinese fighter. There is certainly a subservience among the Chinese characters which sits uncomfortably. Despite all that, the film's ridiculousness makes it tremendously hokey fun, even if it did put one of the final nails in the Hammer Film coffin.
AKA: Dracula and the 7 Golden Vampires; Seven Brothers Meet Dracula