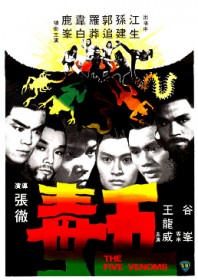 Chang Cheh's seminal work caused a stir when it was first broadcast on late night TV in America. The cult film spawned merchandise, cartoons and cash-ins, thus becoming possibly the most widely seen Shaw Brothers movie in the studio's history.
Frankly, the film is quite kitsch and campy, and far from Chang's best work. Yet The Five Venoms relishes every second of its distinct quirkiness, and although slightly too abstract for any sort of mainstream appeal, the film's standing as a cult favourite and kung fu movie classic is for the most part well deserved.
Credited for launching numerous careers (Wang Yu, David Chiang, Ti Lung, Fu Sheng), Chang Cheh presents us with a new breed of kung fu stars – his third generation of stalwarts now known collectively as the 'Venoms'. It's a great cast, and the onscreen chemistry is charming, even if loveable beggar Chiang Sheng is given an elevated role as the film's main protagonist.
As a dying wish from his old sifu, he has to disband the deadly Poison Clan before their venomous, greedy ways inflict more harm on both the people and the state. The Toad, the Lizard, the Snake, the Centipede and the Gecko are all masters of their own bizarre styles, but none of the Venoms know each other and Chiang hasn't got a clue either. He pledges allegiance with iron man Toad (Lo Meng) and good cop Lizard (Phillip Kwok) in order to hunt for the rest, and their treasure grabbing antics soon give themselves away.
The Five Venoms also established Chang Cheh's new take on the kung fu genre, altering his style from sweeping historical epics to garish, colour saturated yarns with more gimmicks and an even greater emphasis on brooding, redblooded males (there's not a single female in the cast).
The actors would continue to prosper in other Venom related efforts, but this is the original and still the quintessential late night favourite.
AKA: 5 Deadly Venoms; Five Deadly Venoms