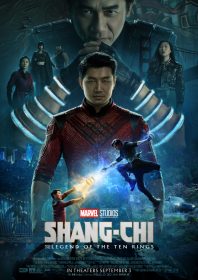 A charming, inventive and entertaining live-action debut for the superhero Shang-Chi, originally modelled on Bruce Lee and first introduced into the Marvel comics at the height of the kung fu boom in the 1970s. Shang-Chi might not have the same superhero clout as Spider-Man or Captain America, but this origin story very much positions him as an integral player in the ongoing – and increasingly convoluted – Marvel Cinematic Universe, with all the bloated backstory that requires. The character also signals the arrival of Marvel's first Asian superhero in a film with mostly people of colour in the lead roles. That is historic and worth celebrating, obviously, but vitally, the film is also a warm-hearted hoot with all the comical hijinks, knowing winks, CGI madness, ancient mythical landscapes, weird creatures, magic gemstones (again?), spandex costumes and positive vibes you would expect from this most crowd-pleasing of studios. Only this time, we have loads of kung fu action thrown into the mix; notably, the internal and external systems found in tai chi, used to great effect as a narrative device to symbolise Shang-Chi's quest for balance. The action is lovingly captured with minimal 'shakey-cam' confusion by a highly qualified crew, featuring alumni from the Jackie Chan Stunt Team: the late Brad Allan as second unit director and stunt coordinator (who died only days before the film's Hollywood premiere), his fight choreographers Andy Cheng and Guillermo Grispo, plus the amazing skills of Martial Club's Andy Le as a masked menace known as the 'Death Dealer'. A fight scene on a moving bus and a perilous bamboo scaffold routine are two particularly impressive, Jackie Chan-esque sequences.
The film's tribute to Hong Kong action cinema can also be felt in its casting, with roles for cinematic royalty like Michelle Yeoh, Yuen Wah and Tony Leung. They humbly pass the baton onto the film's younger leads Simu Liu, Awkwafina and Meng'er Zhang – all terrific, and primed to take the story forward. In particular, Simu Liu – known for his work on the Canadian sitcom, Kim's Convenience – deserves special praise for being thrust into the limelight to lead a multi-million-dollar franchise film after reportedly responding to a tweet. If he's nervous at all in the central role, he certainly doesn't show it. Regarding Tony Leung – a darling of world cinema – he probably isn't the first person you would think of to play The Mandarin, an immortal kung fu warlord presiding over his own army of assassins, forcefully taking over the world with his super-powered arm-bands known as the 'Ten Rings'. And, in fact, you would be right, because Ben Kingsley played the same role in Iron Man 3 (2013) in another textbook example of Hollywood whitewashing. (Kingsley makes a particularly strange but funny appearance in this film by way of a retro-engineered apology). Leung's power as a cinematic icon is more noticeable in the film's quieter moments – although there aren't many of those – revealed to be a father whose nefarious activities have led to the death of his wife and the estrangement of his children, Xu Xialing (Zhang) – who has become the owner of an underground fight club in Macau – and Shaun, real name Xu Shang-Chi (Liu), who has turned his back on his family to work as a parking attendant in America with his buddy, Kate (Awkwafina). That is until a personal mission sees their father drag them both back into his evil orbit.
Despite director Cretton's credentials as an indie filmmaker known for telling intimate and personal stories, the film mostly sidesteps any of the characters' hidden depths, and never really attempts to explore the Asian American experience. It eventually decides to go in a completely different direction for its second act, settling into far more familiar, formulaic territory, culminating in a massive sea monster battle which becomes tiresome. For pure escapism, though, it's hard to fault the film's burst of colour and energy. A promising start for Shang-Chi, bringing the 'fu' back to the MCU.