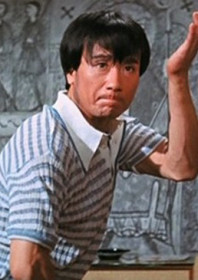 Date of birth: 13 September, 1940 (Sunchon, North Korea)
Other names: Whong In-sik, Whang In-sik, Wong In-sik, Whang Ing-sik, Hwang In-shik, Whong Inn-sik, Wang In-sik, Whang In-shik.
Occuption: Hapkido instructor, actor.
Style: Hapkido, Tang Soo Do.
Biography: Hwang In-shik is one of the world's most prominent Hapkido instructors and a former star of Hong Kong kung fu films who has worked with the likes of Bruce Lee, Jackie Chan and Sammo Hung.
Hwang was born in Sunchon, north of Pyongyang, in present-day North Korea. His family moved to Seoul when Hwang was still young. It was in Seoul where Hwang first discovered his passion for martial arts, learning the Korean discipline of Tang Soo Do. At the age of 13, he moved onto the relatively new discipline of Hapkido – a hybrid system incorporating Japanese grappling systems with jumping kicks and weaponry. He was taught by Kim Yong-jin (a disciple of Game of Death actor and Hapkido master, Ji Han-jae), and later the founder of Hapkido, Choi Yong-sool. Upon receiving his black belt at the age of 16, he studied at the fledgling Korea Hapkido Association, run by Ji Jan-jae. Many notable Hapkido practitioners trained at the Korea Hapkido Association during this time, including Bong Soo-han, who later found fame in Billy Jack (1971) and The Kentucky Fried Movie (1977). Hwang received his 7th dan black belt in 1976 from the renamed Republic of Korea Hapkido Association and was appointed as chief instructor.
In 1972, former script-writer Huang Feng – eager to find a new style of action to differentiate the fledgling Golden Harvest studios from their main rivals, Shaw Brothers – found himself filming in Seoul. Huang had directed, written and produced the very first Golden Harvest feature, The Angry River, in 1970, and while in Seoul, he sent his cast and crew to train at the Korea Hapkido Association under the tutelage of Ji Han-jae and Hwang In-shik. Huang's Hong Kong crew, which included his esteemed fight choreographer Sammo Hung and the young stuntman Jackie Chan, adapted the Korean fighting styles they had learnt to create a fresh, more grounded style of fight choreography. Much of what can be defined as the Golden Harvest 'house style' stems from the teachings of Hapkido and the Korean disciplines.
Huang Feng later invited both Ji Han-jae and Hwang In-shik back to the Golden Harvest studios in Hong Kong to film the martial arts classic, Hapkido (1972), which starred Angela Mao Ying, Sammo Hung and Carter Wong. In the film, Ji Han-jae and Hwang In-shik perform a rather straight Hapkido demonstration to introduce the relatively unknown discipline and Hwang was given a platform to perform his superb kicking abilities.
According to Bey Logan's Hong Kong Action Cinema, Hwang In-shik was said to have been "throwing his weight around" on the set of Hapkido, dismissing the Chinese fighting arts for being inferior to those of Korea. Word reached Bruce Lee via the Hong Kong stunt team, and Lee promptly hired Hwang In-shik to appear in a rather dismissive role in his directorial debut, The Way of the Dragon (1972). Hwang is bizarrely cast as a Japanese karate expert who is repeatedly pummeled by both Chuck Norris and later Bruce Lee. "Whang In Shik (sic) came away from the encounter with a fresh respect for Chinese martial arts," writes Logan. Bruce Lee later released Ji Han-jae from his busy schedule filming Game of Death to help his friend Unicorn Chan on his production, Fist of Unicorn (1973), which also featured Hwang In-shik.
Hwang signed a motion picture deal with Golden Harvest and continued to predominantly work with director Huang Feng and the actor Angela Mao Ying. Hwang made appearances in the director's When Taekwondo Strikes (1973), The Tournament (1974) and Stoner (1974) – the latter featuring former James Bond actor George Lazenby. He was also used by fight choreographer Sammo Hung in The Devil's Treasure (1973), Kwan Tak-hing's Wong Fei-hung revival, The Skyhawk (1974), and The Association (1975), which also starred Angela Mao. In all his Golden Harvest work, Hwang In-shik was similarly cast as the 'foreign' (non-Chinese) villain with a superior repertoire of kicks, a role later embodied by another Korean bootmaster, Hwang Jang-lee.
In 1976, Hwang In-shik retired from acting and relocated to Canada to start a family. He eventually settled in Toronto where he opened the Eagle Hapkido School which, in 2016, celebrated its 30th anniversary. He remains the head of the school to this day. In 1980, Hwang was coaxed out of retirement at the behest of former stuntman Jackie Chan, who required a super-kicker to go toe-to-toe with him at the culmination of his second directorial feature, The Young Master. The fight scene is one of Jackie's greatest (and most relentless!) action sequences. Two years later, Jackie Chan convinced Hwang to reprise his villainous role in proposed sequel, originally titled Young Master in Love, but later renamed Dragon Lord (1982). Hwang plays another superior fighter which sees Chan resort to extreme measures to eventually defeat him.
Hwang is also the owner of a 10th degree black belt awarded to him by the California-based World Hapkido Association. Hwang received the honour and the title of chief instructor by the Association's current president, Tae Jung, who was a former pupil of Hwang.
Speech! "At the time, nobody knew about Hapkido, so I thought, 'this is a good chance'. But I don't know about movies. I'm scared of acting, really. I don't know about cameras at all." From Hong Kong Legends DVD release of The Young Master.
Click here to listen to KFMG Podcast S01 Episode 10 with Hwang In-shik.
Filmography: 1972 Hapkido; The Way of the Dragon; Fist of Unicorn; 1973 When Taekwondo Strikes; The Devil's Treasure; 1974 The Tournament; Stoner; The Skyhawk; Black Leopard; 1975 Close Kung Fu Encounter; The Association (+ action dir.); Tomb for a Strongman; A Wandering Hero; 1976 Snow Plum Blossom; Righteous Fighter, Il Ji Mae; The Best Disciple; 1977 Tragedy at the Songhwa River; The Chase without Tomorrow; 1980 The Young Master; 1982 Dragon Lord; 1983 A Fist Full of Talons; 1990 Year of the King Boxer.