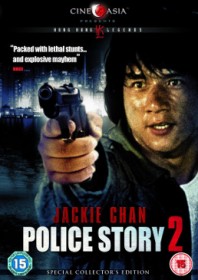 Explosive sequel to Jackie Chan's 1985 smash hit, this follow up features less of the knockabout antics from the original film (although the comedy does hold up) and is a much darker, straight-laced cop thriller with the usual outbreaks of delirium.
Hong Kong supercop Ka Kui (Chan) returns to face another barrage of subplots. One in which the baddie from the first film (Chu Yuan) is diagnosed with a fatal illness and vows to take revenge before he clocks it. And another in which a gang of petty arsonists threaten to blow up a major corporation in exchange for cash, kidnapping Ka Kui's girlfriend May (Cheung) in the process.
Police Story was always going to be a hard act to follow, and this sequel does well to generate some of the original film's flair and excitement. There are a number of stand out action scenes: a brief brawl in a restaurant sees stuntmen hurled through glass and crockery, and an expertly precise assault in a playground sees Jackie dispense with a whole gang of angry combatants. The big finish shows Chan taking a kicking from bootmaster Benny Lai before escaping from a massive explosion, the extent of which had never been undertaken before in a HK movie.
AKA: Kowloon's Eye; Police Force 2