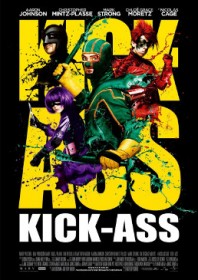 Gratuitous but fun action movie that makes unsubtle use of its comic book source, partly as a ploy to please the nerds by linking live action with neat animation, but mainly to add a distinctly fantastical cartoon element to its extreme scenes of post-Kill Bill violence.
Mark Miller wrote the original comic (he of Wanted fame), a writer on the more absurdist end of someone like Alan Moore (he of Watchmen fame) and his neo-political subversion. Kick-Ass delves into the motivation of an opportunistic superhero borne from the conformity of everyday life, with Miller choosing an awkward, teenaged internet geek as his centrepiece – the demographic of most comic book fans, presumably.
Tired of the modern injustices of the world, where crime goes unpunished and bullying prevails, troubled high school nobody Dave Lipetsk (Nowhere Boy's Aaron Johnson) decides to take the brave if muddled step of embodying his own superhero creation, presumptuously calling himself Kick-Ass. Despite his limited training, he purchases a green morph suit and batons from eBay and inadvertently becomes a YouTube smash thanks to his amateur crime fighting, courting the attention of father-daughter unit Big Daddy (a dweebish Cage) and Hit Girl (potty mouthed Moretz), two heavily-armed, similarly costumed anti-heroes. They're the real deal, if a little twisted in their logic, and the trio unite to form a vigilante entente with the sole purpose of battling a slick drug baron and karate expert (Strong) who, as a humorous caveat, appears to be embroiled in a similar domestic debacle of his own.
The resulting adventure is a pleasing mix of both coming-of-age teen movie and outrageous action, perfectly personified in the unlikely brutality of Hit Girl, a sweary ass-kicking 11 year old who rather obviously ends up stealing the film. Not that you won't already be won over by the warm heart at the centre of this flamboyant tale, which at least, if nothing else, shows that superhero movies don't have to be camp or clever to be a hell of a lot of fun.