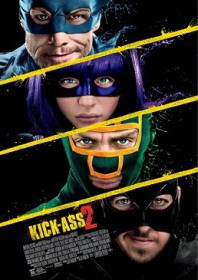 Desperate sequel which trades the original film's flare, fun and heart for broader brushstrokes of crude humour and gratuitous violence – something which angered the film's co-star Jim Carrey enough to openly distance himself from the project. Where the first film excelled at humanising the superhero fable for teen audiences – as well as providing genuine shocks in the form of potty-mouthed assassin Hit Girl – this brash and ugly sequel settles on a more confused narrative and gets its kicks from grisly cop killings and projectile vomiting.
Based on two comic books, the different stories never quite coalesce comfortably. On the one hand we have the coming of age story of 15 year old high school newbie Hit Girl (Moretz), still suffering the fallout from her father's death and convinced by her foster Dad to hang up her alter ego's cape and nunchaku in favour of school work and boyfriends. In one particularly ghastly scene, the film advertises a Union J music video as a means of expressing her sexual awakening, but the sequence ends up stinking of corporate cross promotion.
Meanwhile, Kick-Ass (Taylor-Johnson) appears to have had a charisma lobotomy and aged well beyond his nerdy geek glasses and boyish locks. He joins a secretive cult of underground superheroes committed to donning homemade masks and fighting New York's crooks, until they fall foul of the bratty millionaire's son wronged in the first film. The boy kills his own mother, steals her gimp gear to create a suit of leather and zips and calls himself The Motherfucker, employing his own army of crass heavies to help locate Kick-Ass and take revenge.
The fact he's called The Motherfucker underlines a distinct lack of imagination which permeates most aspects of this film.