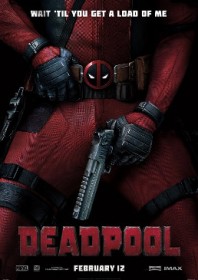 You may remember Marvel's foul-mouthed antihero Deadpool from a Wolverine origins film back in 2009, played by Ryan Reynolds but doubled by Scott Adkins during his high-wire bout with Hugh Jackman. They completely sidelined the character, gave him strange laser eye powers and cut out all of his fourth-wall-breaking knowingness and sass, which are precisely the elements which make him such a perennial favourite among comic book fans. These are also the elements which make him all but impossible to place on the big screen, or even within Marvel's own X-Men universe. Aside from lapses into the sort of routine exposition we have seen a heap of times before in other origins movies, Deadpool's movie still works due to the studio's willingness to fully engage in the character's unique irreverence, and thanks to an impassioned performance by Ryan Reynolds, who also acts as producer and seems perfectly at home in the role.
The film sets up a free pass in the opening credits, which are supposedly written by the central character and directly references the ensemble of two-dimensional characters ("the hot girl", "the moody teen", "the comic relief" and so on). Deadpool is constantly addressing the camera by way of narrating his own backstory. It's a brave comedic trope adopted famously on film by humourists like Woody Allen, or in movies like Ferris Bueller's Day Off (which this film explicitly references at one point). When used here, the trope helps to pacify the absurdest violence on display and pull back on the more earnest aspects of the story. Having said that, the film does lose its levity when dealing solely in narrative; namely during the brewing romance between Deadpool's former self – the smart-ass retired mercenary Wade Wilson – and damaged former stripper Vanessa (Baccarin). Wade is dealt a cancer diagnosis which sees him come into contact with mad scientist Ajax (Skrien), a "token British bad guy" who is creating immortal super-powered mutants in a makeshift laboratory for some kind of financial gain. Wade is tortured and permanently disfigured in the process, although he benefits from the acquisition of superhuman strength, regenerative qualities and the ability to do increasingly elaborate somersaults while firing a gun. He straps swords to his back and goes on a nihilistic quest for revenge hoping to kill those responsible and win back his doting girlfriend.
Some of the in-jokes venture dangerously close to corporate backslapping with gags aimed specifically at the actor Hugh Jackman, the X-Men franchise and the whole concept of superhero movies. The fact a big studio like Marvel is now spoofing its own product may point to a wider sign of fatigue setting into the genre. Also, the zeitgeist references to emojis, TV commercials and social media may inadvertently date the film alarmingly quickly. However, at least now there is an R-rated studio-sanctioned comic book movie brave enough to buck the trend. It may not be as subversively clever as, say, Kick-Ass, but it is still a very enjoyable ride.