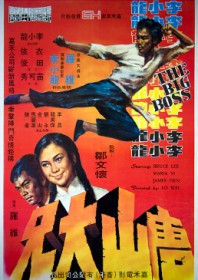 In Bruce Lee's starring role debut he plays Cheng Chao-an, a country bumpkin sent to Thailand with his uncle to visit his cousins who work at the local ice factory. When drugs are discovered in one of the ice blocks, the finders (two of Cheng's cousins) go missing and Cheng is quick to investigate. The big boss of the factory is soon discovered to be a part time hustler as more cousins start turning up in ice blocks with various body parts removed. Cheng is forced to break his celibacy of violence and confront the evil doers in a blood soaked fight to the death.
Unsophisticated, made on a shoestring and with constant tribulations (including creative differences between director Lo Wei and his leading man), the end result is a cheap and amateurish affair but one that also provides a great deal of unintentional fun.
A phenomenal success in Hong Kong, the film propelled its charming leading man to the top of his field after years of struggle and discrimination in the US. Lee is electrifying in his debut: kicking, strutting and redefining the role of a Chinese action hero, much more in keeping with the traditions of western actors like Steve McQueen and Clint Eastwood but with an incredible poise, style and physicality. Which is ironic, considering The Big Boss was initially designed as a vehicle for it's co-star, James Tien. The fact Bruce Lee only steps up as leading man halfway through is proof of Golden Harvest's initial reservations on a man who would later be credited for revolutionising the martial arts movie genre.
AKA: Fists of Fury