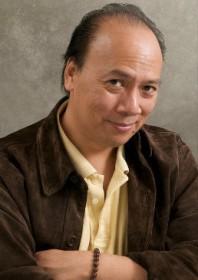 Date of birth: July 2 (Washington, D.C.)
Occupation: Stunt coordinator, fight coordinator, stuntman, author, screenwriter, producer, director, second unit director, instructor, bouncer, bodyguard, stand up comedian
Style: Tang Soo Do, Japanese Jujitsu, Tien Shan Pai, Western boxing, Wing Chun, Sil Lum Pai, American karate, Kali, Hung Gar, Taekwondo, Okinawan Kenpo, Tai Chi, Chi Gung, Aikido, Shotokan, American kickboxing
Biography: John Kreng has enjoyed a multifaceted career in the American entertainment industry. Born of Chinese and Thai descent, the Kreng family settled in Washington, D.C. following the death of his father when he was only a year old. Kreng majored in art at the Parsons School of Design in New York City and studied screenwriting at the University of California in Los Angeles.
Kreng began studying martial arts in 1973. He holds two black belts in the disciplines of Tang Soo Do and Japanese Jujitsu. He has trained with professional fighters including Jeff Mulvin, Neil Ehrlich, Benny Urquidez, Keith Vitali, Stuart Quan, and Asa Gordon.
After settling in Los Angeles, Kreng worked as a bouncer and a bodyguard for celebrities including Richard Pryor and enjoyed a 14 year career as a stand up comedian. He started at The Comedy Café in Washington, D.C. alongside the likes of Martin Lawrence and Tommy Davidson, and spent over a decade at The Comedy Store in Los Angeles.
After forays into acting, Kreng's first job as a stuntman was fighting Jet Li in the 1989 film The Master, a Hong Kong production directed by Tsui Hark and filmed entirely in America with Yuen Wah and Brandy Yuen as fight directors. From 1999, Kreng has worked consistently on feature films, TV shows, commercials and short films as a stuntman, stunt coordinator, fight choreographer and second unit director.
Kreng has worked with Yuen Cheung-yan, Steven Spielberg (as a stuntman in Hook) and prolific exploitation filmmaker Roger Corman on titles including Hard as Nails (2001), Shakedown (2002) and Slaughter Studios (2002). Kreng has helped to train actors including Seinfeld star Phil Morris and Ghostbusters actor Ernie Hudson. He worked as a fight choreographer on one of David Carradine's last films, Night of the Templar (2012).
Kreng has also worked as a producer and motion capture artist on computer games including Art of Fighting 3 and Full Spectrum Warrior. As an author, Kreng has published work on the history of martial arts cinema, including his 2007 book Fight Choreography: The Art of Non-Verbal Dialogue, and as an editor for TC Media's Bruce Lee tribute celebrating the 25th anniversary of Enter the Dragon in 1998. He has also provided DVD special features for distributors including The Weinstein Company, Contender Entertainment Group and Cine-Asia. Kreng also lectures at film schools and runs seminars in Los Angeles teaching actors how to fight on camera alongside the filmmaker, actor, and stuntwoman Melissa Tracy.
In 2012, Kreng was a producer for the film Battle B-Boy, as well as stunt coordinator and actor. The film won Best Independent Film Award at the 8th Annual Chinese-American Film Festival. Also in 2013, Kreng was inducted into the Martial Arts History Museum's Hall of Honor. His second book, The Fight Choreographer's Hand Book, is tentatively scheduled for release in 2014.
Speech! On being a stunt coordinator: "Because what we do is so physically demanding, the generalisation is that stunt professionals are just a bunch of dumb jocks who do crazy things for the camera and don't understand the technical aspects of making a movie. That is very far from the truth. What we do is an art and a science." Kung Fu Movie Guide, 2014.
Click here to read our interview with John Kreng.
Filmography (as action director/stuntman/second unit director): 1987 In Love & War; 1988 Glitch!; 1989 The Master; 1990 Born Killer; 1991 Hook; 2001 Hard As Nails; 2002 Shakedown; Slaughter Studios; 2003 Enter The Grillmaster; 2004 Fist of the Iron Chef; 2005 The Helix… Loaded; 2009 Caesar & Otto's Summer Camp Massacre; 2010 Haymaker; Mantra; 2011 Bounty; 2012 Faith and Other Weapons; Night of the Templar; Y – The Last Man Rising; Battle B-Boy (+ pro.); 2013 The Rolling Soldier; Emma and I; Blood of Redemption; Born to Die; 2014 Blood of Redemption Stunts; Chuck Hank & the San Diego Twins