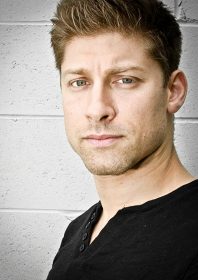 Date of birth: March 29, 1981 (Libreville, Gabon)
Occupation: Actor, stuntman.
Style: Kickboxing, jiu-jitsu, Brazilian jiu jitsu, MMA, Krav Maga.
Biography: Alain Moussi was born in Libreville, Gabon, in central Africa. His father is from Lebanon, and first introduced Alain to the films of Bruce Lee. The Moussi family moved to Ottawa when Alain was seven years old. He began learning martial arts from the age of 10. His first style was jiu-jitsu, which he learnt for eight years under the Canadian martial artist, John Therien. He later learned kickboxing under Jean-Yves Thériault, a 23-time world kickboxing champion. He also has a black belt in Brazilian jiu-jitsu, training under Carlos Machado.
Alain first made the step into the film industry when he met stunt coordinator and martial artist, Jean Frenette, who was looking for stunt performers to work on the 2011 film, Immortals. He was hired to double the leading actor, Henry Cavill, and was signed up to three months of stunt preparation and a three-month shooting schedule.
Following his work on Immortals, Alain was hired for more stunt-work on major motion pictures and TV shows. His credits include White House Down (2013), Pacific Rim (2013), Pompeii (2014), Brick Mansions (2014), X-Men: Days of Future Past (2014), and doubling Hugh Jackman for X-Men: Apocalypse (2016). His first major acting performance was as Charlie Nash in Joey Ansah's web series, Street Fighter: Resurrection (2016).
In 2011, Alain first met the film producer and director, Dimitri Logothetis, when he auditioned for his unfinished martial arts film, Wings of the Dragon (2014). When Logothetis bought Kings Road Entertainment, he became the owner of the Kickboxer property, and he set to work relaunching the franchise. Alain was cast in the central role of a remake, playing Kurt Sloane, a role made famous by Jean-Claude Van Damme in the 1989 original. Kickboxer: Vengeance (2016) was shot in Thailand and took eight weeks to film. Jean-Claude Van Damme featured as Kurt's Muay Thai kickboxing instructor, Master Durand, and the film also featured top martial artists, including UFC stars Gina Carano and Georges St. Pierre, and the former wrestler, Dave Bautista. A sequel, Kickboxer: Retaliation, was released in 2018, with a third film planned, called Kickboxer: Armageddon. The former film featured the boxing legend, Mike Tyson. Alain also worked on the fight choreography with his long-time friend, Jean-Francois LaChappelle.
In 2005, Alain Moussi opened the K2 martial arts school in Ottawa, Canada, (formerly NX Martial Arts and Fitness) with fellow martial artists Scott Fitzpatrick, Aksell Nicolaides and Chris Davison. The school specialises in teaching MMA (mixed martial arts), as well as lessons in kickboxing, Krav Maga and Brazilian jiu-jitsu, as well as running a kids' program. He lives in Orléans, Canada, and is married to Janie Moussi, with whom he has a daughter, Annabelle, born in 2012.
Speech! "I get nervous all the time. But, for me, I have always channelled nerves into excitement, and then into performance. I feel that if I am not nervous at all, then there's something wrong. It means I'm not on top of my game. And if I am nervous, that means I'm ready; it's go time." In conversation with Kung Fu Movie Guide Podcast, 2018.
Click here to listen to KFMG Podcast S03 Episode 28 with Alain Moussi.
Filmography (as actor): 2005 NX Files: Discover the Secret (+ pro, scr.); 2010 L'appât; 2011 The Day; 2012 Transporter: The Series (TV); 2013 A Sister's Revenge; White House Down; 2014 Pompeii; Being Human (TV); Wolves; Wings of the Dragon; 2016 Street Fighter: Resurrection (TV); Kickboxer: Vengeance; Only I…; 2017 Kill Order; 2018 Kickboxer: Retaliation; Titans (TV); 2019 Enhanced; American Gods (TV); V-Wars (TV); 2020 Jiu Jitsu.