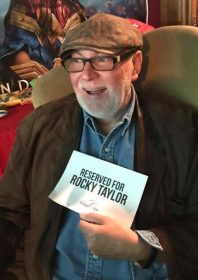 "All the other stuntmen had never done judo; they couldn't even do falls on the floor. It gave me great credibility in the stunt business and allowed me to learn my craft."
At 75, Rocky Taylor is known as Britain's oldest stunt performer. A day before this podcast was recorded, he was doing doughnut spins in his car and setting himself on fire. In the last year alone, his stunt credits include Spider-Man: Far from Home and Angel Has Fallen. Rocky has sustained his long career (six decades and counting) by being something of an all-rounder: high-falls, horses, cars, sword fights and punch-ups. He has doubled for some of the biggest names in British film and television, from Patrick Macnee in the hit 1960s TV show, The Avengers, to Sean Connery and Roger Moore. His credits include work in the Bond franchise, Titanic, Evita (as stunt coordinator), and the Harry Potter series. As a judo expert from a young age, it was the martial arts which would provide Rocky with his first big break in the movies: training the singer Cliff Richard for the 1961 musical film, The Young Ones. Performing at a time when safety on film sets was far less rigorous than it is today, Rocky has narrowly avoided death on numerous occasions; the most serious of which being an accident on the set of Death Wish 3 in 1985. This life-changing event inspired the title of his memoir, Jump Rocky Jump, co-authored by Jon Auty, which is available now from Amazon. The injuries Rocky sustained has not deterred him and he continues to enjoy a prolific and varied career, including work as a second unit director and stunt coordinator. It's a career he says he, quite literally, fell into – which may well be true – but its one he has managed to sustain through skill, hard work, and a lot of hard knocks. Long may it continue.
This episode of the podcast was recorded in person in March 2020 before the UK government lockdown imposed following the coronavirus outbreak. Find out more information about Rocky Taylor via IMDb, Twitter and Instagram. Jon Auty runs Behind the Stunts, which you can follow on Twitter and YouTube.