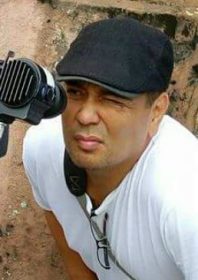 "As far as a true Filipino martial arts movie, there isn't one yet. But that's definitely on my plate."
It was after watching Thailand's Ong-Bak and Indonesia's The Raid that the producer, stunt coordinator and fight choreographer Sonny Sison had an epiphany. Where were the Filipino action films promoting their indigenous martial arts styles, like Ong-Bak did with Muay Thai, and The Raid with silat? Determined to do the same for his home country, Sonny left Hollywood and boarded the next plane to Manila, taking over 25 years' worth of industry experience with him to a country still developing as a global player in the movie market. Since relocating, he has been on a self-made mission to promote the Filipino martial arts through his fight choreography. In 2018, he worked with director Erik Matti on the non-stop fight fest, BuyBust, and this year sees the arrival of Maria, a Filipino action film directed by Pedring A. Lopez and starring Cristine Reyes, which is available now on Netflix.
In this episode, we discuss his upbringing in the Philippines and Hawaii, where he first discovered his love of martial arts through the movies, before his relocation to Hollywood and his work in the entertainment industry. He befriended fellow Hawaiian, Mark Dacascos, and the two started out on their show-business journeys together, with Sonny eventually ploughing his own furrow via Power Rangers, producing, dancing with Michael Jackson and stunt performing on huge Hollywood films like The Rundown, The Green Hornet, Olympus Has Fallen and Godzilla. Sonny worked as the second unit director on Mark Dacascos' directorial debut, Showdown in Manila, and as Sonny explains, he has plans to work with his old friend again.
We discuss the rich heritage and cinematic appeal of Filipino martial arts, the challenges of working in the country's film industry, and how you go about training someone with no martial arts background to look like an absolute bad-ass on screen. For the latest Sonny Sison news, follow him on Facebook and Instagram.
Photos via Facebook; FHM; Instagram; IMDb.