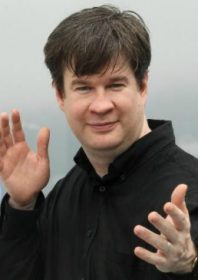 "He walks on screen with an attitude, chest back, and that's who he was in person, but on screen, he presented the Chinese male in a different way."
When Bruce Lee died 45 years ago at the age of 32, his death was shrouded in mystery. To this day, theories still abound as to the circumstances surrounding his passing and the events leading up to it. Writer Matthew Polly has his own theories, along with many other revelations about Lee's short but incredible life which he has published in a new biography, called Bruce Lee: A Life, which is available now wherever you get books. Matthew's fully comprehensive biography expands on Lee's privileged upbringing as a child star in Hong Kong, to his formative years in America as a martial arts instructor, and then later as an actor in movies and television. Throughout the book, Lee's enthusiasm, creativity and determination jumps off the page, rendered in amazing and insightful anecdotes sourced from years of research and over a hundred interviews with Lee's friends, family and business partners.
Matthew Polly's book is a revealing portrait of one of the 20th century's most important and iconic figures – not just in the world of martial arts and big-screen entertainment, but also as a self-made man who crossed the cultural divide between east and west. In this interview recorded during a visit to the UK, Polly expands on Lee's cinematic legacy, his reputation in Hollywood as a "guru to the stars", the rumours and scandals which continue to haunt his life story, and his enduring status as one of the world's most famous individuals. Matthew Polly's other books include American Shaolin and Tapped Out. His book, Bruce Lee: A Life, is out now. To keep up to date with Matthew Polly, follow him on Twitter.