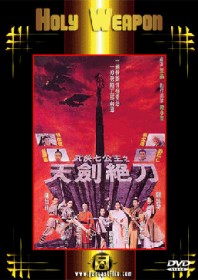 Mad and bawdy wuxia romp, in the truest sense of the word. The suggestive title is no accident. Wong Jing's film is rife with sex gags and includes scenes involving Dicky Cheung communicating with his penis, a mistaken lesbian romance, a villain who rapes nubile young virgins to fuel his life source, and a strong female cast utilising a girls-only sword fighting manual. It moves like wild fire, too, so good luck trying to keep up.
Set during the Ming dynasty, the film charts a three-year feud between Japanese fighter Super Sword (Simon Yam, who morphs into a man-sized saber and flies through his opponent's guts) and Heaven Sword (Damian Lau), who ingests a cocktail of poisoned snakes before taking on his adversary at the behest of the Ghost Doctor, played with wild hair by Ng Man-tat. The cocktail sends him mad and he recovers three years later for the rematch. In the interim, a mess of slapstick and fantastical action takes charge. The cast have a great time, but the viewer will be dumbfounded.
An ensemble of seven virgins are required to learn the Yuen Tin Sword Position to help combat Super Sword. They consist of Heaven Sword's faithful partner Michelle Yeoh, runaway princess Maggie Cheung and her sex-shifting eunuch bodyguard, and Sandra Ng's besotted fiance who at one point swallows the eye of a jinxed vampire in a haunted house before growing completely demonic. She chucks up and feels better, before the film quickly moves onto another moment of madness.
There's also an extraordinary scene in which Sharla Cheung's sinister brothel madame turns into a spider to catch a cocksure rapist in her giant web before dismembering his minions. An admirable film, but its batshit crazy.