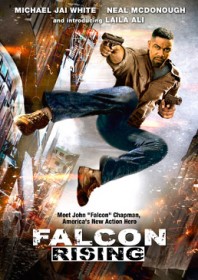 Ex-serviceman John Chapman (White) returns to New York from an undisclosed conflict in the Middle East suffering from PTSD and a really short fuse. When he's not self-medicating his trauma with alcohol, he's punching holes in the walls of his apartment, or urging gun-toting street thugs to blow his brains out during a heist at a convenience store ("either shoot me or stop wasting my time."). Enter Cindy (Ali), his supportive sister and only beacon of hope, who is taking a break from her day job as a social worker in the dangerous, hazy favelas of Rio de Janeiro. Soon after her return to Brazil, her broken and bruised body is found washed up on the shoreline, and the production uproots and heads to South America where John can forget about his PTSD and get back to shooting and kicking a lot of people.
The favelas are shown in quite broad strokes as places of brewing tension, crime and unsavoury characters hanging from rooftops with AK-47s. There are the good cops who take a gentle approach to tackling the insidious crime wave, and there are the bad cops, personified by Thiago (Navarro) and Carlo (Crowder), who prefer to use brute force against the gangs, settling public disputes with aggressive Capoeira routines. John acts as the bridge between the two camps, heading up his own one-man investigation into his sister's abuse with the help of a good friend at the US embassy (Neal McDonough), unearthing links to a suave Japanese Yakuza gang as the main drivers behind a child prostitution racket.
The always affable Michael Jai White helps to steady all the sporadic elements in this more than passable B-movie. He is equally convincing when suffering a serious PTSD flashback as he is delivering some smart-ass dialogue, or operating a firearm whilst performing a fly-kick.
AKA: Favela