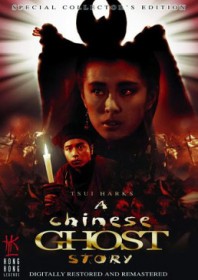 A traditional Chinese fable subject to western technicalities, the sheer exuberance of this zany Hong Kong classic will leave you well and truly ravished.
From producer Tsui Hark and wire-fu genius Tony Ching Siu-tung comes this crazed love story besieged by a high-octane pulse, rapid editing and smart special effects. The result is both elegant and chaotic at exactly the same time. Not only a box office hit throughout Asia, ACGS has now achieved a cult following around the world and remains one of Hong Kong's breakthrough films.
Based on a Pu Song-ling's novel, the film starts with wandering tax collector Ning (Cheung) staying overnight in a haunted temple. A seductive and gorgeous ghost named Tsing (Wang) lures another male into her trap, only for his life juices to be sucked out by her unisex pimp matron. When our leads finally meet, Ning is clearly wise to turn Tsing down, but there is no stopping their true feelings and eventually they fall in love.
The assistance of bearded swordsman Yen (Wu Ma), an expert in Taoist ways, comes in handy when Ning attempts to reincarnate Tsing into a living being. But no one said it was going to be easy. Even when the outstretched tongue of Tsing's tree-haunting dominatrix has been defeated, there is still the small matter of journeying deep into the pits of hell to tackle Lord Black and end his monstrous reign of terror.
The creepy stop motion and eye-popping imagery is wonderful, and the romanticism is orchestrated convincingly by a stellar cast fit for the occasion. The comedic aspects lighten the tone but it is Tony Ching's visuals which do most of the talking. The resulting film is a clear stroke of madcap genius, a vivid escapade which travels at warp speeds and never once touches the brakes.