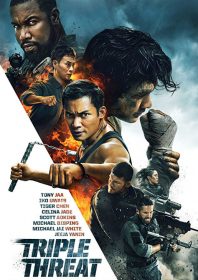 All-star martial arts extravaganza which, by and large, more than delivers on its action-packed promise. Credit should be given both to the film's director, Jesse V. Johnson, and its editors for somehow managing to showcase the talents of its ensemble cast without scrimping on any individual performance. Although the story positions the Asian leads as the heroes, fans of all involved should come away feeling well-nourished. Kudos, too, to Tim Man's excellent fight choreography which does well to identify stylistic differences between the performers as well as playing to their strengths, whether its Tony Jaa's powerful Muay Thai strikes, Tiger Chen's kung fu posturing, or Mike Bisping's MMA-inspired takedowns.
Based on an original concept by Tiger Chen Hu, there is a creeping feeling that much of the story has been truncated in development and with each new addition to the cast, surfacing only at opaque moments in the form of disjointed backstory and characters which are never fully realised. Its essentially a mercenary tale pitting three Asian leads – a Chinese fighter (Tiger Chen), an ex-soldier from Thailand (Tony Jaa), and an Indonesian villager (Iko Uwais) – against a troop of obnoxious, western Special Forces types hired by an unknown backer to kidnap a rich Chinese heiress (Celina Jade).
Set in Thailand, the diversity of the cast and its multilingual aspects (featuring English, Thai, Mandarin and Indonesian languages) makes the film feel more homogeneous than you might expect, and politics plays a rather small role in the narrative when compared to other contemporary Chinese action films. This may be deliberate as a way of widening the global appeal of the Asian leads, particularly Tiger Chen and Tony Jaa, leveraging on the western appeal of actors like Michael Jai White and Scott Adkins, who both do their best renditions of comic-book thuggery.
Interestingly, it is Iko Uwais who is positioned somewhat separate from the pack, playing a rogue outsider whose motive is revenge rather than duty or self-preservation. As the film's only performer whose mainstream career is still in its relative infancy, his status in the film feels more calculated. As well as the headliners, people like Michael Wong and Jeeja Yanin crop up in very welcome supporting roles, adding to the camaraderie. It doesn't take itself too seriously, either, with good banter between White, Bisping and Adkins – channelling his inner Statham in a rerun of his Mike Fallon character from Accident Man – and Jaa, who just can't help himself from becoming the comedic foil.
Triple Threat is released on digital and video-on-demand from 22 March in the USA via Well Go USA.