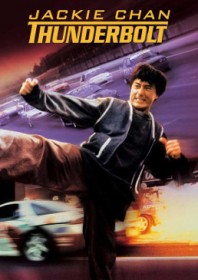 Jackie Chan follows his passion for motor racing to create this commercially endorsed full throttle feature – the type of hearty Chan flick where he sings the theme tune. Produced by Golden Harvest via a Mitsubishi sponsorship deal, Chan thankfully keeps one eye on the road by not completely alienating his core kung fu fan base. He sandwiches two brilliant kung fu fights into the film, perhaps as a compensatory device for a movie which derives most of its thrills from people driving fast cars.
Sammo Hung is drafted in to help with brawls in a manufacturing plant and a Japanese arcade, both of which are some of Jackie's best work even if they appear to jar uncomfortably within the narrative. As devoted family man and everyday mechanic Alfred, there is no particular reason why he should have any kung fu skills at all. But it's a good job he does, particularly when he helps Chinese traffic cops to apprehend European uber villain Cougar (Nickel). He's textbook evil, under surveillance by Interpol and heading for Hong Kong, although his motives are particularly unclear.
Gordon Chan must have closed Hong Kong to capture the film's first great car chase, as Cougar and Alfred treat one of the world's most congested cities like a private playground. Cougar is arrested and retaliates by suspending Alfred's bedroom from a crane, using it as a wrecking ball to destroy the rest of his house before kidnapping his two useless sisters. To set his family free, Alfred has to race Cougar again in a final showdown, which oddly involves traveling to a professional rally track in Japan.
Thunderbolt is a disjointed experiment which never feels like anything other than a series of set pieces. The finale is most disorienting with Gordon Chan's direction suffering from a harried confusion. Torrid weather conditions in Japan meant the crew had to relocate to Malaysia, so the final edit is rife with continuity errors. Restricted to mostly mounted camera positions, Gordon Chan relies on speeding up the crash footage to increase the excitement. But as the cars pile up and spontaneously explode, the race ends up looking like something from The Cannonball Run (which, ironically, featured a young Jackie Chan).
At this stage in his career Chan could afford to be a bit self-indulgent, and he is offered a gleeful abandonment here. But he still remains consummately focused on offering his fans the danger they crave. At one point he even sets himself on fire, so full marks for effort.
AKA: Dead Heat