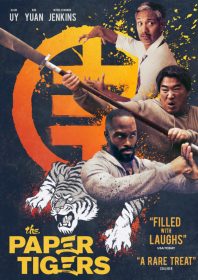 Heartwarming underdog story about three kung fu buddies – known locally as the 'three tigers' – who meet up in middle age to avenge the death of their sifu. Bao Tran's directorial feature film debut lands a sucker-punch not just to the funny bone – the script has more chucklesome moments than most recent action comedies with ten times the budget – but also in the feels, with a strong set of nuanced characters each battling their own midlife crises: unfulfilled potential; divisions of loyalty, justice and honour; adherence to tradition and familial responsibility; and a need to find compromise. Danny (Alain Uy) was sifu's favourite student 30 years ago; now he's a workaholic insurance salesman with a Bluetooth headset struggling to connect with his young son as his relationship falls apart. His schlubby best friend, Hing (Ron Yuan), lives a lugubrious existence on benefit payments from a workplace injury. As an MMA instructor, Jim (Mykel Shannon Jenkins) is the only one of the original 'tigers' still in shape, but he is now estranged from his friends and can't remember his basic kung fu training. Although age may have dampened their strength, it hasn't affected their spirit, as they reunite to track down a rival kung fu assassin (played by the film's action designer, Ken Quitugua) believed to be the real culprit behind their sifu's sudden death.
Given the film's entirely wholesome approach to its subject matter, even characters which may seem like comedic constructions are afforded surprising pathos and depth; like their dweeby white buddy, Sifu Carter (Matthew Page, known for his great Enter the Dojo spoof series on YouTube), who wears traditional kung fu uniform, spouts creaky Confucian wisdom and dodgy Cantonese, and is described by Danny as a "fortune cookie made with white flour". He seems like an obvious takedown of the worst kind of cultural appropriation, but when Carter is forced to fight, he is shown to be a great kung fu practitioner, rooted in technique and devotion to the art. The quick-fire banter between Carter and the tigers provides some of the film's biggest belly-laughs, but his character is not simply an afterthought. And for a low-budget indie, the action is exciting stuff – feverishly orchestrated by Ken Quitugua and executed with great authenticity. It was Ken who first worked with Bao on the film's initial 2015 proof-of-concept, The Challenger, starring Andy Le, who also make a neat appearance here with his brother, Brian Le, and stunt performer, Phillip Dang, as a trio of martial punks in a wonderfully comedic showdown with the 'tigers'. Coupled with a Kickstarter campaign, it has certainly been a long journey for Bao to get his vision onto the screen. Yet he has managed to deliver his story seemingly without too much compromise, and the dedication and passion for the project can be felt throughout. The result is a distinctly honest, personal, and refreshing spin on the kung fu movie formula.
The Paper Tigers lands in cinemas and on-demand in North America on 7 May 2021 courtesy of Well Go USA.