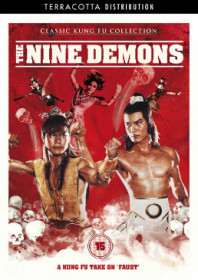 Delirious kung fu take on the Faust story from Chang Cheh, reuniting with his Venoms crew for one of his most bonkers productions. Ricky Cheng plays the avenging Zou Qi who sells his soul to the devil in exchange for superior powers. He vows to take revenge for the death of his father and see the house of Gan Yun back in power, therefore averting an all-out war between rival families in the martial world. Zou is positioned as a somewhat sympathetic vessel for a sect of nine blood-thirsty demonic children in blue hula skirts who are summoned at will via a chain of skulls positioned around his neck. The skulls fly off and feast on anybody nearby who they can sink their teeth into. They are led by the devil's female cohort who behaves like a vampiric vixen from a Hammer flick. When the madness gets going, Zou is left to fend off attackers (and what remains of his dignity) while wearing a cloak, an orange vest and clashing lilac tights. He could easily pass for a member of Earth, Wind and Fire. The film's low-budget special effects add to the disco theme, which mostly consists of dry ice and the kind of flashing lights you find at a school dance. Zou's magical transportation powers are shown via crude jump cuts which add to the film's hyperactive, disorientating nature. It is also tonally disjointed, sandwiched somewhere between one of Chang Cheh's typically earnest, full-blooded heroic yanggang pictures, and a hokey supernatural yarn like Encounters of the Spooky Kind, only with all the humour removed. Despite being one of his latter-day indie flicks, the studio confines give the film a distinctly Shaw Brothers feel, coupled with the sterling choreography of Venoms talents Chiang Sheng, Lu Feng and Ricky Cheng. The great fight scenes give it a physical edge, but it remains completely nutty throughout.
AKA: The Demons; The 9 Demons.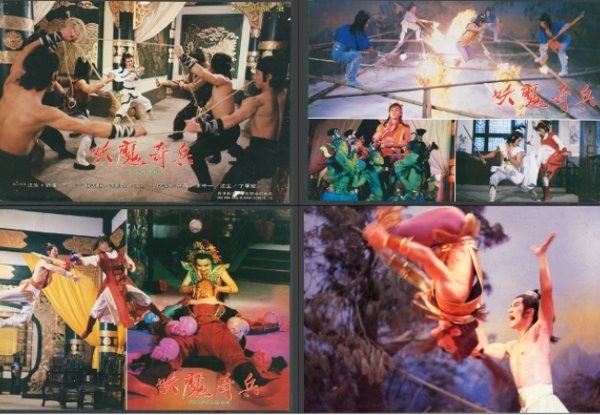 The Nine Demons is available to buy on UK DVD from Terracotta Distribution as part of their Classic Kung Fu Collection.