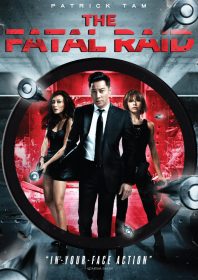 This isn't a masterpiece by any stretch of the imagination, but it is so much better than the first film, 2016's Special Female Force. The original was a goofy, dated take on the goofy, dated Hong Kong cop farce The Inspector Wears Skirts – a cringingly sexist, sizest horror-show. Jacky Lee's unofficial sequel is a far moodier, intense film which – although prone to the odd perverted moment in which its central female cast strip-off in slow-motion before a gun fight – is a largely competent, solid action film which owes a debt to crime classics like Heat and the work of John Woo. Lee thankfully gives Jade Leung a decent story for her character this time around, with Madam Fong reeling from another botched heist in Macau 20 years ago, in which she and her colleague, Tam (Patrick Tam), apprehend a terrorist cell only to accidentally kill innocent people and members of their own team in the process. Both Tam and Fong have since enjoyed promotions to senior roles in the HK police department, but they still suffer trauma from the incident. During another visit to Macau, the team are ambushed again, only this time by a young crew of crazy cocaine punks, and a new 'Special Female Force' is assembled to save the day. They are played by Lin Min-chen, Hidy Yu, Jade Lin and Jeana Ho – the latter returning to the mix with a leaner, meaner persona, which she carries off wonderfully, playing a character far more befitting to the 'girls with guns' archetype portrayed back in the day by people like Yukari Oshima. The problem is the film's reliance on genre tropes, cliches and repetitive gun battles, and although there's certainly more depth than before, it is still painfully unoriginal. Who knows, maybe if they just keep going with this franchise, they will get it right eventually.
AKA: Special Female Force 2; Special Female Force 2: The Fatal Raid.
The Fatal Raid is released on digital, Blu-ray and DVD on 24 August 2021 courtesy of Well Go USA.