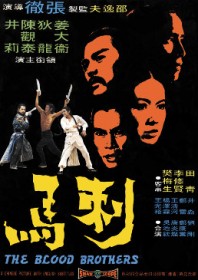 The kind of Chinese epic only Shaw Brothers could have made, this extravaganza matches Hollywood melodrama with lavish imagery so impeccable you realise why fans proclaim this film to be Chang Cheh's most accomplished work. He's David Lean with a machete.
It's a rags to riches tale with glorified antiheroes and misguided loyalties, featuring Chang Cheh's most destructive force: a woman, here played by Chang Li. She manipulates the three central males into a spiraling self-destruction, played out over a Ben Hur-style exposition.
David Chiang, Chen Kuan-tai and Ti Lung gang up to run their own bandit clan and enlist into the Imperial army. Ti Lung climbs the ranks to the upper echelons and goes on a power trip. He sleeps with Chen's wife and then has Chen killed, forcing David Chiang to turn on his brother in a fit of bloody revenge.
The roll call of big names are all tremendous. Ni Kuang co-writes, as he does with most of Cheh's best work. Lau Kar-leung and Tong Gaai direct the action. The Ti Lung/David Chiang double act are excellent , particularly the sour-faced Ti Lung. Chen Kuan-tai is superb in support whilst Chang Cheh directs like an angry headmaster, charging headfirst into sophisticated set pieces with believable characterisation. Supposedly based on true events, this is completely unlike your average history lesson.
AKA: Assassinating Ma; Chinese Vengeance; Dynasty of Blood