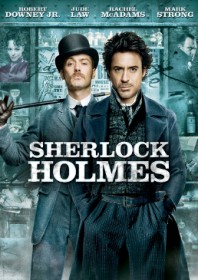 Guy Ritchie was perhaps an obscure choice to helm this big budget caper – a Victorian romp which revises Conan Doyle's super-sleuth as a neurotic, unhinged bare knuckle brawler, overly dependent on his friend Dr Watson to the detriment of any would-be suitors. Indeed, the only woman he does take a fancy to is completely the wrong sort: the pretty, double-crossing crook Irene Adler, played by Rachel McAdams.
But on closer inspection, perhaps Ritchie was actually the perfect choice. His London-centric cockney rebel films deal within the buddy formula, and he is great at handling big action set pieces as well as his trademark bone-crunching fight scenes.
It's Downey Jr's portrayal of Holmes which is the film's most captivating aspect, playing the detective as a comedic vagabond: a curious, reckless, troubled genius and the antithesis to Jude Law's exasperated straight guy. Yet the story is no conundrum: a gothic-drenched claptrap of hocus pocus which sees the devilish Mark Strong inexplicably survive the hangman's noose to lead an evil cult in manipulating their way into the upper echelons of parliament in a bid to take over the world. The logical Holmes is never once perplexed by his supernatural surroundings, even if the rest of London are kept in a close grip of fear.
With the emphasis so firmly set on fancy dress and frolics, those expecting a detective tale which stays true to the source should probably stick with the old Basil Rathbone films. If you want a lighter, more contemporary fix which revels in high spirits and jaunty heroism, then Ritchie delivers.