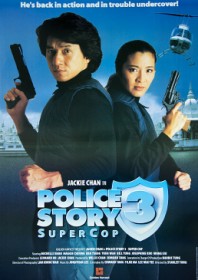 Possibly the best of Jackie Chan's police adventures, Stanley Tong matches the tone and formula of the previous films very well, replacing Jackie in the director's chair and allowing his leading man to handle the majority of the action.
The filmmakers crowbar in cataclysmic explosions from rocket-propelled grenades, car and bike chases and a grand finale involving Chan suspended from a flailing ladder attached to the undercarriage of a moving helicopter.
With kung fu and white-knuckle stunts aplenty, this sequel has more of a global quality about it, designed to appease Chan's expanding international and commercial following. Tong decides to leave the constraints of tiny Hong Kong to film extravagant sequences in China and Kuala Lumpur.
The film has heart, too, which is a quality Chan failed to replicate in his later westernised, gung-ho action movies of the 1990s. There is a tender sibling rivalry with co-star Michelle Yeoh, not to mention the return of Chan's unlucky girlfriend May (reprised by Maggie Cheung), and there are some brilliantly funny comedy routines that conjure up both the dexterity of Charlie Chaplin and the absurdities of Inspector Clouseau.
The story starts better than it ends, with Ka Kui (the 'supercop' of the HKPD) travelling to the Mainland and feeling notably out of step with the uniformed authority of China's more disciplined police force. He goes undercover with the diligent Inspector Yang (Yeoh) to infiltrate notorious Hong Kong hoodlum Brother Panther (Wah) and his band of suited cohorts. Panther turns out to be merely a subordinate in Kenneth Tsang's aim to buy out a Malaysian consortium, which includes the local militia, before the story becomes an afterthought and the carnage takes over.
Which is not necessarily a bad thing, because this is just the sort of insane Jackie Chan carnage you could happily watch again and again.
AKA: Supercop