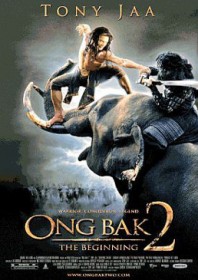 After establishing an on-screen persona for himself as Thailand's impressionable young country boy, Tony Jaa – the Mowgli of martial arts – immerses himself in an indulgent historical epic in which he directs, produces and stars.
Having already won over the hearts of fight fans around the world with two blistering showcases (2003's Ong-Bak, 2005's Warrior King), we can perhaps forgive him for taking somewhat extravagant measures with this one.
It's a follow-up to his debut feature Ong-Bak which predates the original story by some 600 years. The link in narrative terms relates to a gold statue of Buddha – the head of which was blasphemously pinched by a criminal syndicate in the first film.
Here, the statue (head firmly in place) belongs to the ruling Ayutthaya Kingdom in 15th century Thailand. A young boy of royal descent is thrown into a feral wilderness to dodge a lunatic warlord attempting to seize power. He is protected, raised and taught to fight by a bandit gang after narrowly escaping a crocodile attack under the caveman gaze of his former captors.
The young boy, Tien (Jaa), grows into a discernibly angst-ridden yet occasionally compassionate twenty-something who leads the bandits into a head-on collision with the corrupt and the corrupted, inevitably setting himself on course to learning some untold truths about his blighted past.
The stage is set for a grand finale, but in a daft anticlimax, the film ends on a frustrating cliffhanger, highlighting to the endemically cursed nature of the film which unfortunately wears the scars of its troubled production all too plainly.
During filming, Jaa – under some duress from the Sahamongkol studio – disappeared from set after the film went disastrously over budget and way beyond deadline, leaving local investors to recruit Jaa's long-time associate Panna Rittikrai (who was busy working on the film Chocolate with Jeeja Yanin) to help save the film.
As a way of recouping its losses, the footage was edited to create another sequel, Ong-Bak 3, forcing some truly nonsensical plot twists along the way. The last half hour is a relentless barrage of Jaa-induced crippling, which is all very exciting, but it does seem to be stalling for time, contrasting greatly with the delicate, non-linear back-story carefully created for Tien's character.
Despite Jaa's apparent breakdown, he displays promising signs as a director, taking great pleasure in staging his gratifying pugilism against a backdrop of gorgeous locations and set design. Ultimately, though, it's a complete mess.
AKA: Ong-Bak 2