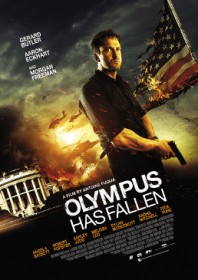 A North Korean contingent of rogue, highly militarised terrorists smash fighter jets into the Washington Monument and storm the White House, trapping the President (Eckhart) and most of his senior staff in the underground bunker to issue their demands. Led by young sadist Krang (Yune) – who for a hater of the west has an impeccable grasp of the English language – the terrorists demand interim Pres' Morgan Freeman to remove US troops from the Korean demilitarised zone and threaten to detonate American nukes across the country.
So with the world going to shit, thank our lucky stars that ex-Secret Service one man army Mike Banning (Butler) managed to sneak into the hallowed halls, opening a communication line with the outside world (like in Die Hard), securing firearms to stylishly pick off some bad guys (like in Die Hard), and rescue the hostages (like in Die Hard). He's even negotiating a tricky romance and hiding from a tarnished past. Like in Die Hard.
"He will move mountains or die trying," says the head of the Secret Service, and even though Banning doesn't actually move a mountain, by the end of this movie you would think it's the sort of thing he does for breakfast. Absolutely nothing stops him, and the gratuitous crashes, bangs and wallops are all a foregone conclusion. The film's jingoism is nauseating and there's not a single original idea. It is also full of its own self-importance despite being utterly disposable.